Umbrage has been caused with the release of a video showing Vineland, New Jersey man Philip White dying after arresting officers allowed a K-9 police dog to maul the unconscious man to death.
The man's death came after cops responding to a call about a disorderly person this past week on March 31st.
The video captured from a cellphone shows two cops standing over White as he laid on the ground apparently unconscious. The video then shows the unsettling image of one of the officers holding a police dog by a leash to bite White around thread and neck several times before eventually pulling the dog away.
According to a report via NBC Philadelphia a law enforcement agent told that the arresting officers made grievous errors in how they handled the situation.
Told the report: The expert — a top ranking law enforcement official and former use of force instructor — spoke anonymously about what transpired on the tape.
Adding: The official, who is not connected to the investigation, said officers should have called off the dog immediately after bringing White under control.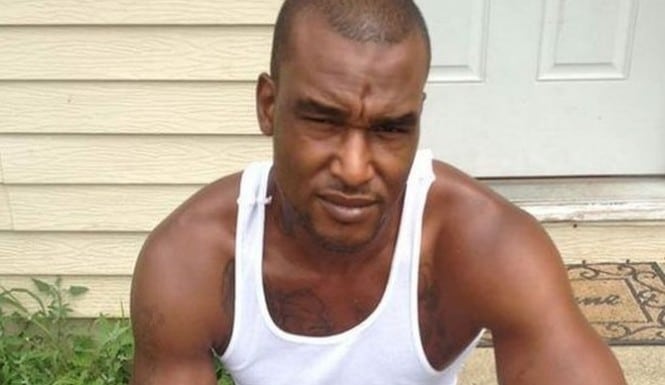 Also unsettling is the revelation in the video of a police officer seen   confronting the person taking the video, demanding they turn over identification and trying to confiscate the footage.
It is not illegal for citizens to record video of police.
Reiterated the anonymous source via nbc: He also said the officer who demanded the person recording the video turn over his cell phone had no right to do so.
Some witness claim that officers continued beating the man after the 32-year-old was unconscious, but cops say that White remained combative throughout the incident. White was arrested and taken to the hospital in 'respiratory distress' where he was pronounced dead.
That said the footage does not show what occurred before White was lying on the roadway.
Another witness, Agustin Ayala, told The Daily Journal White had been resisting the cops.
Ayala said the officers told him White tried to take his gun.
Offered Conrad Benedetto, an attorney since retained by the family: 'There are great concerns about the circumstances that surround this death,'
'Mr. White's demise is the second police-involved force incident in Cumberland County within 91 days. The public and Mr. White's family deserve answers as to how Phillip was killed and why there is a lack of oversight of local police.'
The lawyer according to the nydailynews told that he could not say definitively that the police dog bites caused Philip White's death.
An autopsy has been scheduled but the results have not yet been released.