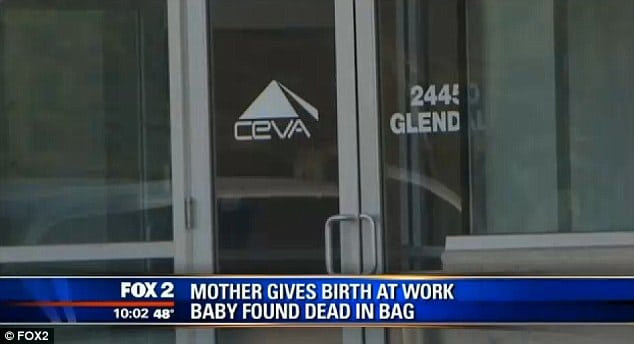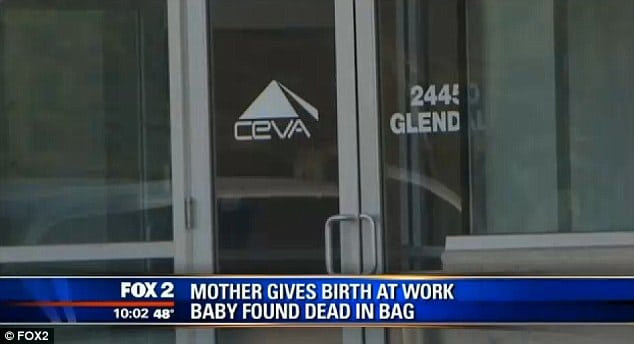 Authorities are trying to make sense of a scene which involved a female employee at Ceva Logistics in Redford, Michigan giving birth to a newborn child, whose deceased body was found hidden inside an office cubicle.
According to investigators a 26 year old female from Wyandotte had secretly given birth to the child in the bathroom before returning to her seat to resume work.
Employees would also tell hearing moaning coming from a bathroom stall circa 10am Tuesday reports Fox 2.
Employees at the firm, which specializes in freight shipping,  upon soon entering the restroom would tell of discovering blood all over a stall.
The Ceva employees returned to the office asking their co-workers if everyone was OK, but one woman seating in a cubicle remained silent. 
Inspection of the woman's dress would reveal what would later be determined to be fetal blood stains.
Asked if she was all right, the woman told she was she was lightheaded but didn't mention that she had just given birth.
Attending police officers would soon arrive at the the place of work where they  discovered the newborn's lifeless body stuffed inside the female employee's bag, hidden beneath her desk.
The mother and baby were taken to a local hospital, where the child was pronounced dead.
An autopsy has since been performed on the deceased infant, with authorities having told the UK's dailymail that they are waiting for a medical examiner to determine a cause of death, which could take up to several weeks.
As of Thursday afternoon, the 26-year-old mother has not been arrested.
Ceva Logistics Director Ken L'Heureux told Detroit Free Press the employee worked for a temp agency and had previously told colleagues she was not expecting.
Reiterated the director: 'All I can say is it is under investigation,'
'We were asked not to say anything, until the investigation is over.'
The woman's employer, Level Professional Services, issued a news release Thursday saying that Ceva has been its client since last October and like Ceva has offered counseling for affected employees, some of whom have already obliged.
At present it is not understood how fellow employees were not aware that the female employee was pregnant or if she had physically concealed to her fellow workers.
It also remains unknown whether the baby was born alive, or whether the death was a homicide.