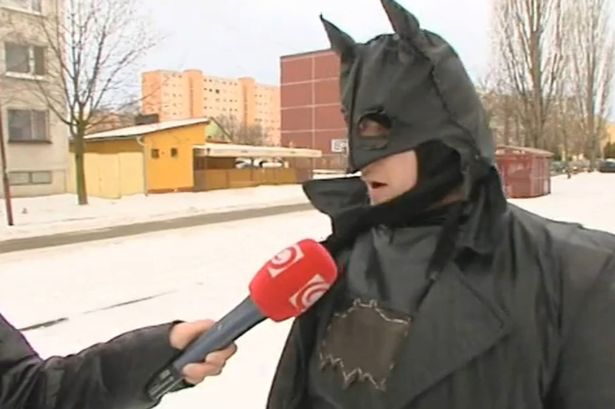 Zoltan Kohari an unemployed Slovakian man who dresses as Batman in a bid to fight crime has been arrested after accusations he molested a young girl.
Along with charges of molestation the caped crusader also faces a separate charge of loan fraud.
The charges come despite the purported efforts of Kohari to rid his hometown of Dunajska Streda in south west Slovakia of crime.
According to a report via the UK's mirror, the Batman enthusiast first began donning the outfit three years ago, helping locals in his hometown, along the way winning their admiration as well as raising eyebrows.
Offered a report in 2012 via odditycentral: 'Kohari has donned a leather Batman suit that he's stitched together himself, in an attempt to help the people of the town. He goes around cleaning the streets, helping the old, and calling the police when he spots something suspicious.'
Added the report: 'According to the local police, Kohari is pretty harmless and his neighbors consider him to be an honest and good man.'
Reiterated one sympathetic neighbor Lenka Brezikova: 'He has had a tough life but he is doing good now, helping to keep an eye on the public.'
Yet those feelings of camaraderie and goodwill may have all been in vain.
Offered a police spokesperson in relation to the Slovakian Batman's sudden about turn of face: 'Regarding the abuse charge, he was initially arrested in 2013 and sentenced to four years in prison, but the judge suspended the verdict saying he wanted a further investigation done.
'Kohari was supposed to appear in court this month but failed to do so and so an arrest warrant was issued.
'In relation to the second charge of fraud, he had applied for a loan of 22,000 GBP which was turned down and he only got 1,500 GBP.
'A loan for the full amount was later given to a company that had been set up in his name, however he denies that this second loan and the company that received it was anything to do with him.'
A local report would also tell that during his time as a crusader against crime, Kohari lived on his own in an abandoned building with no water, heat or electricity.
The charges agains the man come as it is now acknowledged that prior to donning his Batman guise Kohari had been a petty criminal, having spent eight months in jail in 2011 as well as having attempted suicide just after his release.