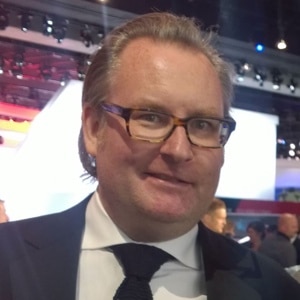 Talk about faux pas, it seems one ad executive, Jonathan Disegi, who happens to be the executive VP over at Commonwealth/McCann's may have been having himself too much of a good time when he came to throw up over diners at Bergdorf Goodman's restaurant this past Saturday afternoon.
According to witnesses, the haphazard advertising executive appeared to have already been drinking when he arrived at the venue's bar alone when he proceeded to fill up.
A report via pagesix tells how our collective hero began to brag to strangers (don't we all Jonathan?) of the hawt bixch that he was and how he was in advertising.
Delicious. I'll drink to that.
And drink Jonathan Disegi continued to do.
But something suddenly went awry .
After going to the bathroom (can anyone guess why?) a female patron asked bar staff to stop serving the ad executive.
Upon returning from the bathroom, our collective hero promptly vomited.
Presumably after learning fellow guests were no longer in the mood to be told 'charming stories' of Jonathan's exploits as an ad man on the go. Or whatever….
Told the witness: 'He put his head down, and it splashed on the counter, dripping on the floor, and onto a woman's expensive Burberry jacket. Staff rushed to clean it up with napkins.'
Oh dear Jonathan, that must have been a trifle embarrassing I imagine? Or just a usual day's work. Or maybe just an off day? Of many? 
After making a mess of himself and the bar our collective hero paid the bill (at the very least) got up and left the restaurant. Where to and how could be anybody's guess.
Responding via email, our collective hero told pagesix the following:
'Yes, I had too much to drink. It was a mistake. Publishing this would not be good for my career, and I really beg you to be discreet here. I made a mistake, and I feel terrible.'
What do you think kids? Publishing or recounting the faux pas of Jonathan Disegi might be terrible for his career? But then again in some quarters it's par for the course and a real career booster. Perhaps even in the 'rock star world' of advertising.
According to the UK's daiymail, Disegi, leads McCann's Chevrolet account (does he still?), joined in January.
He previously worked at JWT New York, where he spent over four years serving as global planning director and worked with clients including Microsoft Bing, Kleenex, Nokia, Schick and HSBC.
At present it is not necessarily known what actions if any Jonathan's employer will be taking.
Shouldn't you be bragging more often when you're out and about too ….?