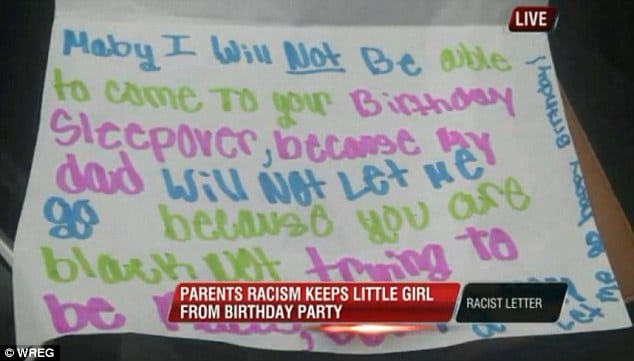 Ten year old Harmony Jones' recent ten year old birthday celebrations came to be marred after the Memphis, Tennessee schoolgirl received a letter from a school playmate explaining that they were forbidden to attend because Harmony happened to be black.
The racist letter penned by the girl's friend as per request by her parents was written in pink, blue and green markers and sprinkled with spelling errors.
Read the letter: 'Maby I will not be able to come to your birthday sleepover, because my dad will not let me go because you are black not trying to be races [sic], but my mom let me no [sic] Happy birthday!'
Both Harmony, who is African-American, and her unnamed friend, a 10-year-old who is presumably white, attend Highland Oaks Elementary School.
Reacting to the letter, Harmony's father, Christopher Jones, told WREG he was surprised and upset when he read the missive from his daughter's school friend.
'It angered me a little bit, it hurt me that my 10-year-old girl had to deal with this, and I myself never thought I would have to deal with this,' he said.
Reiterating via Fox 13: '[I] never thought anything like this would happen.'
But Harmony's father who also has a younger daughter, added that he doesn't blame the other girl for her parents' apparent bigotry, adding that there's a lesson to be learned.
'I guess us as parents need to be more aware and conscious about what we teach our children,' he said.
Christopher Jones said up to this point, the family has been satisfied with Highland Oaks Elementary, which he described as a multi-racial and friendly environment.
According to the dad, Harmony has made many new friendships since enrolling at the school, including with the 10-year-old girl who penned the offensive note.
Civil rights activist Lasimba Gray would tell that they hoped that letter can turn into a teaching experience.
'Fifty-two years since the Dr. King 'I have a dream speech,' you would think that the basis for racism would disappear, but evidently it is being perpetuated by those who teach it.'
The identity of the girl or her parents who directed her missive has not been revealed.