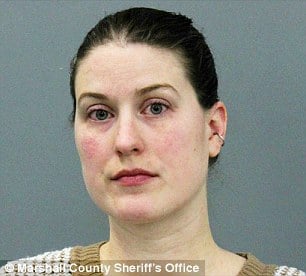 It seems things haven't been going particularly well and how for sixth grade Marshalltown school teacher, Carissa Bryant after she turned up drunk to class this recent Wednesday.
Courtesy of a police report via the Marshall County Sherrif's office, the 33 year old woman was arrested and charged with public intoxication.
The office would tell that they dropped by Lenihan Intermediate School after reports that one of the teachers at the school appeared disorientated and intoxicated.
Shit would be confirmed when Bryant would be brought in, with the woman registering a blood alcohol level of .19, more than twice the legal limit in Iowa.
Prior to being brought to the local county jail, teachers would tell that the woman reeking of alcohol, with bloodshot eyes whilst slurring her words.
Upon being booked, the married teacher who has a son, would eventually be released from jail after posting $300 bail.
Since news of Carissa Bryant's existential breakdown school misadventure, the 33 year old teacher has been placed on administrative leave pending investigation.
The teacher who teaches language arts and social studies, would later admit she had been drinking before the start of school Wednesday morning.
It is not necessarily understood if the teacher disclosed why she turned up drunk and how regularly she was drinking?
Police say the case has now been referred to the Marshall County Attorney's Office for further review.