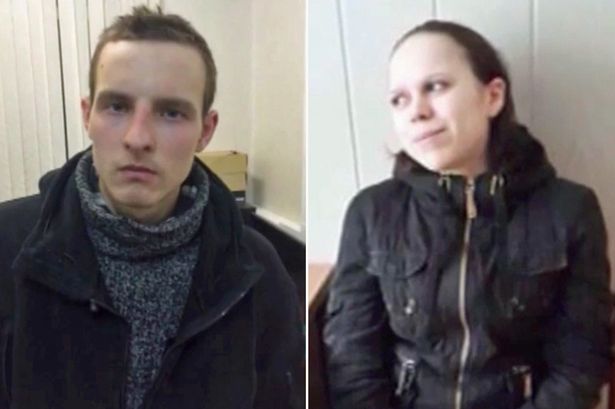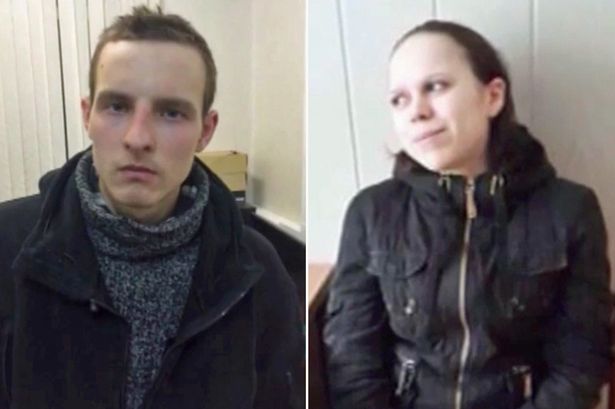 A Russian couple have admitted to murdering 12 homeless people in a bid to 'clean up' their city.
Arrested and charged with premeditated murder were Paul Voitov, 20, said he and Elena Lobacheva, 25, from Moscow, who told investigators that they hunted down people they thought were homeless and alcoholic.
The pair are said to have started the killing spree in July last year, carrying out viscous knife attacks on each of the victims.
It is thought they mistook one of their victims, bank worker Sergei Yevseyev – who was stabbed more than 100 times – as living on the streets after he stopped at a local park on his way home.
Offered the victim's grieving father Alexander Yevseyev, 60: 'My son Sergei was neither homeless nor alcoholic.
'He worked in a bank and had met with a friend in a local park for a chat and a drink.
'After leaving he was walking home when they attacked him, stabbing him over 107 times.'
The pair were caught after they were filmed attacking street cleaner, Prokhor Gorshkov, 45 who managed to escape.
At the time Gorshkov had finished work and was on his way home when he was set upon by the couple.
He was stabbed in the back before managing to flee to a nearby police station where he gave a description of the pair.  
Told a police spokesman: 'So far the woman has refused to speak, but the man has confessed.
'He said that between July 2014 and February 2015 they committed numerous murders, choosing victims as persons of no fixed abode and prone to alcohol consumption.
'He said they mainly looked for their victims in isolated places and carried out the killings at night time because they wanted to clean up the city.'
News24 notes Russia does not issue official statistics about the number of homeless people but is believed to have three to four million out of an official population of more than 140 million.
In Moscow, homeless people often huddle at mainline railway stations or sleep in metro trains.
The murders come after the Mayor of the Siberian city of Chita Anatoly Michalev suggested shooting the homeless in order to solve problems associated with them.
Told the mayor: 'Unfortunately, we don't have a license to shoot the homeless, and now there are no other ways to get rid of them.'
The indicted couple now face life in jail.