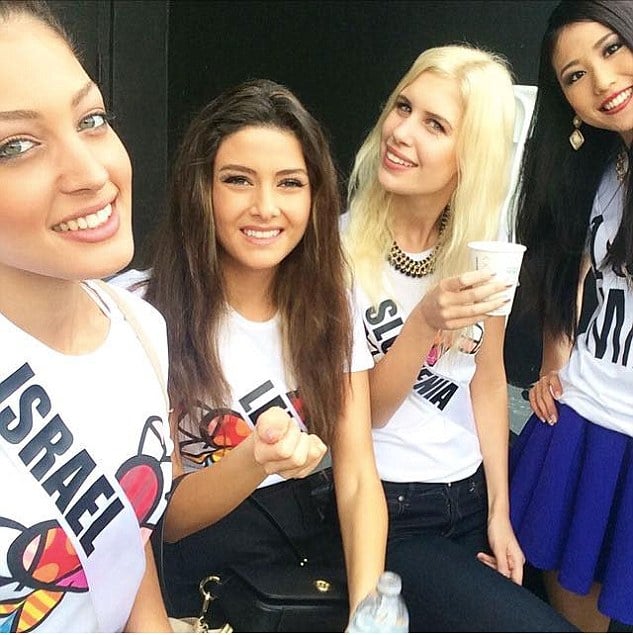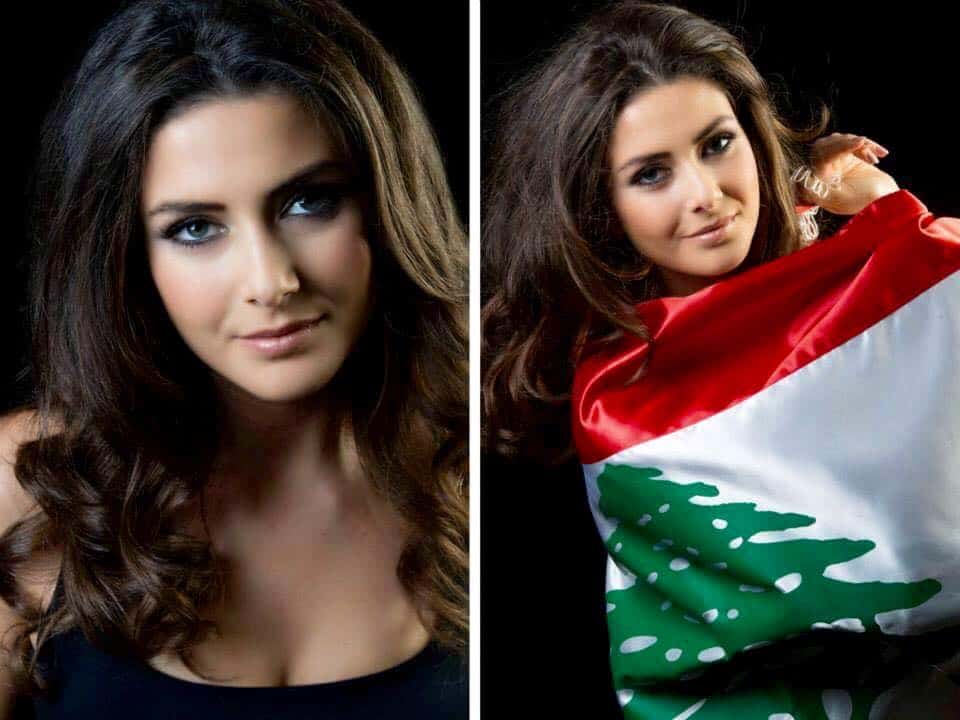 Miss Lebanon Saly Greige has been forced to apologize to her countrymen after a selfie photo bomb of her and Miss Israel Doron Matalon led to calls to have her stripped of her title.
Rather than defending the photo as many commentators have suggested Greige ought to have done, the Miss Universe pageant contestant would instead maintained that she had no choice but to sit in the photo which soon went viral after Miss Israel 'jumped in' a group photo ( present were Miss Japan and Miss Slovenia) before she could get away.
The saga comes as the two nations are technically still at war, despite no new fire has been shot at either side since 2006.
In an apology on Facebook, the beauty queen wrote: 'Since the first day of my arrival to participate to Miss Universe, I was very cautious to avoid being in any photo or communication with Miss Israel (that tried several times to have a photo with me).
'I was having a photo with Miss Japan, Miss Slovenia and myself, suddenly Miss Israel jumped in, took a selfie, and put it on her social media.'
The offending photo appeared on Miss Matalon's Instagram account on January 11.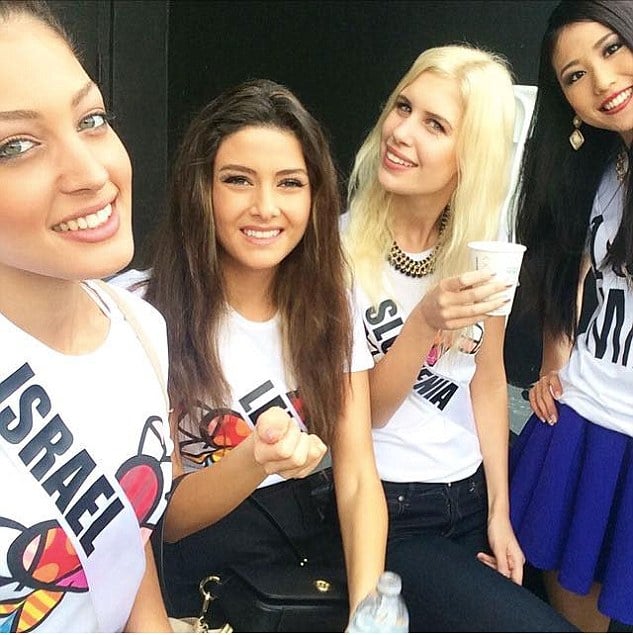 The photo features Greige who holds a masters degree in civil engineering smiling awkwardly alongside Miss Japan and Miss Slovenia as Miss Israel suddenly photobombs the picture.
It wouldn't be too long before Lebanese media picked up the story, running Greige's allegations that Matalon had 'photobombed' the selfie, with local social media users both defending and attacking the beauty queen for the picture. 
Compelled to respond to the ensuing controversy, Miss Israel, Doron Matalon yesterday told on her facebook that the commotion has made her 'sad'.
Adding: 'It doesn't surprise me, but it still makes me sad. Too bad you can not put the hostility out of the game,' 
Israel occupied parts of Lebanon for 22 years until 2000, but the two countries are still technically at war and their armies occasionally skirmish along the UN-designated withdrawal line.
Israel fought a bloody war against Lebanon's Hezbollah in 2006, which killed more than 1,200 people in Lebanon, mostly civilians, and some 160 Israelis, mostly soldiers. 
So much for world peace and the spirit of Miss Universe pageant contests…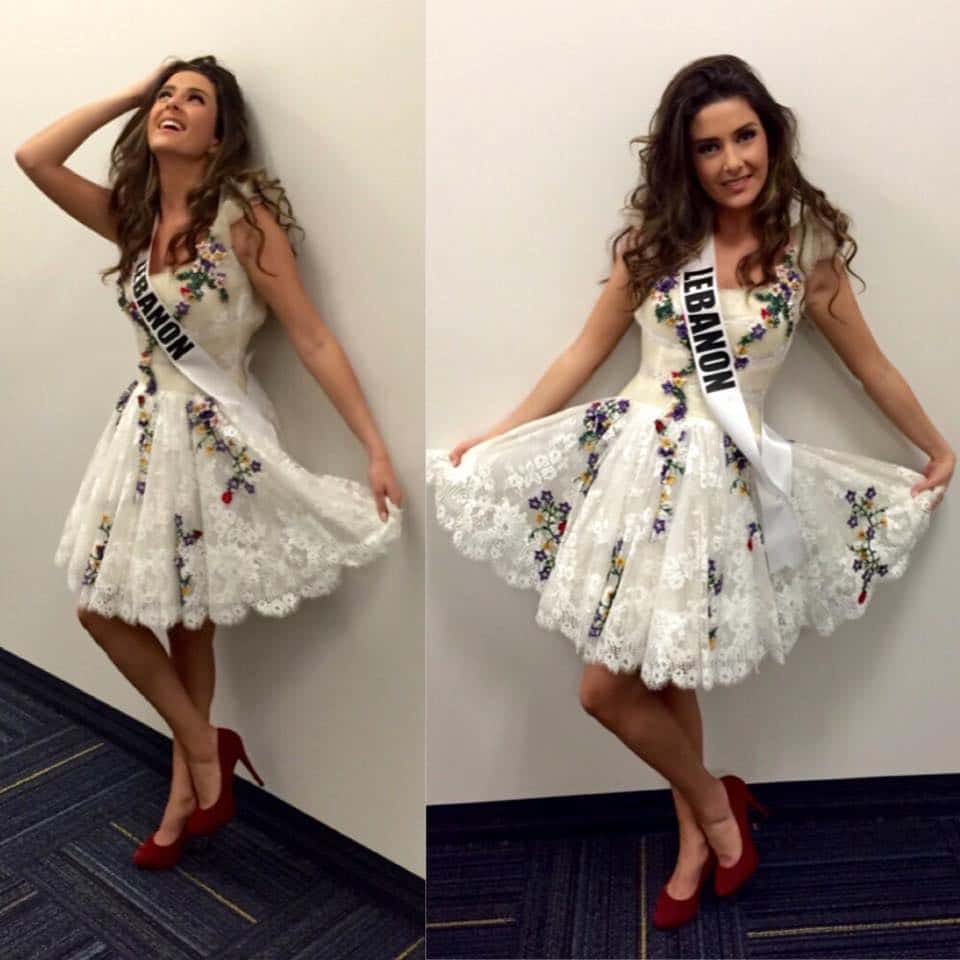 And then there were these comments on the web that made me wonder:
How Miss Lebanon can enter Miss Universe when she unable to promote world peace even among them?
She's been avoiding Miss Israel in fear of not getting full support from fans. They should have taken more pictures together and use their influence to promote world peace.
it's the Lebanese government that needs to "grow up" and realise that its "enmity" with Israel should never extend to international platforms that promote peace, unity and goodwill, like beauty pageants. Nothing good will come out from such excessive insecurity on the part of the Lebanese government, except negative perceptions towards Lebanon and the Lebanese people as well as bad press attention and general disaffection towards Miss Lebanon.