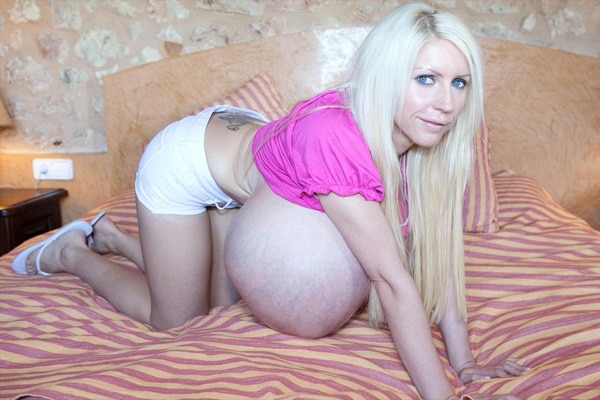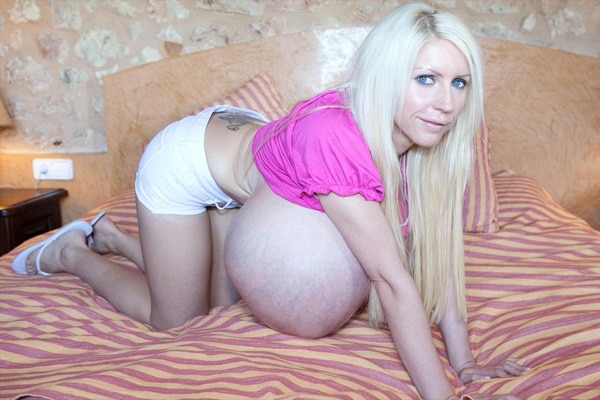 Making her foray in the cultural stakes is the preeminence of German adult actress Mayra Hills otherwise known as Beshine who arguably boasts the world's largest fake breasts.
For those seeking exact details, Beshine dons a 32Z bra size with each breast containing 10 liters of saline and weighing 20lbs (other things that weigh 20lbs are a toddler, a puppy, a car tyre, or four large rainbow trout, you get my drift). Her measurements to put things in uber perspective are an impressive 59-28-36.
Proving that large fake breasts can indeed be a girl's best friend Beshine boasts a heady 124K followers on twitter, many of whom have come to enjoy seeing Mayra Hills' daily updates.
Although pundits have expressed concern about how good it can necessarily it be on the model's health having to carry so much extra weight, that's a concern that Beshine hardly merits any concern over, as she goes about bragging over her very particular eye sores … 
And for those of us wondering how much bigger can Beshine go there was this recent Twitter exchange, where our collective heroine indicated that her doctor said she could increase her breasts from 10,000 cc implants to 50,000 ccs, 'if I slow down my traveling schedule to very little.'  Indeed….
Anyway here are some pictures below, see what you think?