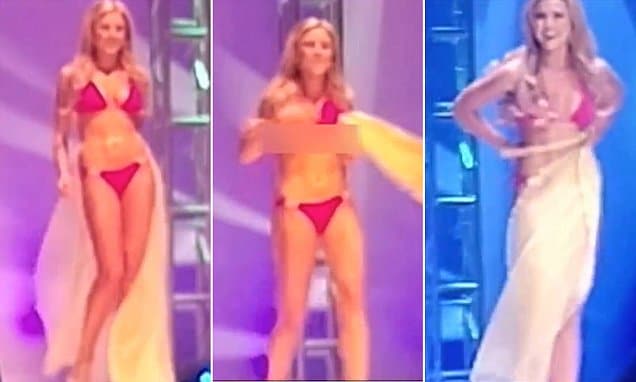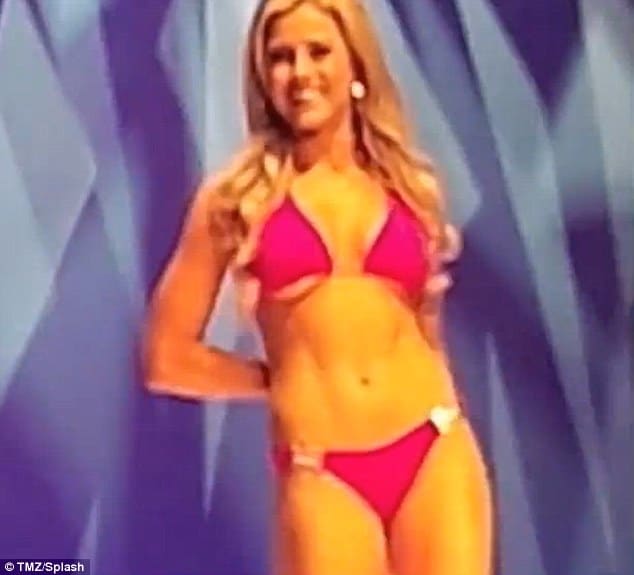 It looked to be going swell, strut down the plank, smile as peachy as could be and while I am it show some curve or two…but that is not the way it went for one Miss California pageant contestant, Chanelle Riggan, Miss Beverly Hills  entrant who was forced to contend with a very unsavory unexpected wardrobe fail yesterday evening…
As Chanelle approached the audience before her in her fuchsia pink bikini, ever mindful to keep a bright and cheery smile as she gainfully strutted for the world, something very awkward happened to the 20 year old: her top fell off mid way through…and the world imploded in Chanelle's mind…
In the ensuing video (see below), obtained by TMZ, our collective heroine looks shocked and quickly tries to rearrange herself as the audience gasps.
However the slip up doesn't last long, and within seconds, Chapelle's world is restored as she manages to grasp at her bra's strings behind her back.
'What will they think at the office?' thinks Chanelle to herself…
As she tried to get herself together, members of the audience screamed 'keep going'.
Without missing a beat, Chanelle Riggan managed to carry on down the runway, turn and grin at a mesmerized audience before heading off stage. 'At last in one piece. How did I ever manage?'
Despite the snafu, Chanelle Riggan made it past the swimsuit competition stage before eventually named fourth runner-up.  
Needless to say Chanelle ended up finding some new admirers and how…
Jackness Music @jackness_music: 'Chanelle Riggan I applaud you! Took that very well and still managed to act all class! #MissUniverse #MissUSA2015'