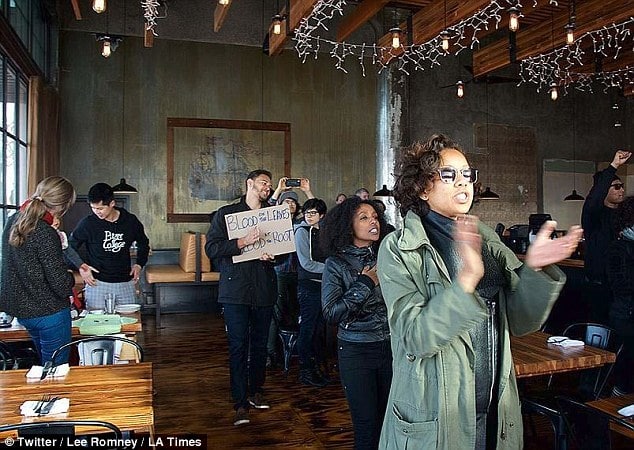 In a sign that discontent with racial targeting and profiling is here to stay, dozens of demonstrators calling themselves the Black Brunch demonstrators targeted restaurants in NYC and California favored by 'white diners.'
The protests told the group operating under the twitter handle, #blackbrunchnyc was to bring attention against alleged police violence.
Carrying banners, 'chanting protesters' entered a number of venues in New York City that they identified as 'white spaces', including midtown eateries: Lallisse, Maialino and Pershing Square.
Once inside, the group 'disrupted' customers by reading out the names of African-Americans killed by police, including Michael Brown, 17, who was shot dead by officer Darren Wilson last August.
Addressing staff and patrons, they shouted: 'Every 28 hours, a black person in America is killed by the police. These are our brothers and sisters. Today and every day, we honor their lives.'
Yahoo! News reports that in each restaurant, protesters also asked diners to stand and raise their fists in the air 'for black life'. At several venues, 'a good number' of customers apparently did so.
Throughout the day, many of the three dozen protesters – who also targeted 'predominantly white' restaurants in Oakland, California – posted photos of the 'Black Brunch' demonstration online.
Alongside an image of protesters inside a New York restaurant, Sharmin Ultra, tweeted: 'We interrupt your brunch time to let you know there is a war on Black lives. We will not stay silent.' 
Another, using the handle @telushk, wrote: 'We're asking brunchgoers to STAND for black life. A good number in the last spot stood or raised their fists. #blackbrunchnyc #BlackBrunch.' 
By Sunday afternoon, the hashtag #BlackBrunch would be trending in the U.S..
Although the demonstration has been largely peaceful – with no arrests made – there have been several reports of protesters getting into heated discussion with staff and customers. (Are you surprised?)
And while many have applauded the nonviolent tactic online, other social media users have questioned the motives, with some even calling the protesters as 'pathetic' and 'ridiculous'.
Twitter user Adam Bohn wrote: '#BlackBrunch Yet another example of childish, community organized tomfoolery under the guise of 'activism'. Grow up.'
Meanwhile, Bob Owens said: '#BlackBrunchNYC is the most desperate and pathetic cry for relevance I've seen in a long time.'
And a user called Ted joked: 'How dare folks go out for an omelette with friends and family on a Sunday! #BlackBrunchNYC #BlackBrunch.'
According to protester Camila ibanez, Belgian restaurant Resto in New York City tried to silence the demonstration by raising the volume of the venue's music.
And then there were these comments on the web that made me wonder:
What exactly is this supposed to accomplish? Going into some random restaurant and shouting the names of deceased people is, quite frankly, pointless and a little bit insane and irrational. Regardless of whether or not the killings of these young men were justified, the people eating in these restaurants had nothing to do with it. What you're doing is akin to yelling at your neighbor because your boss won't give you a raise. It makes zero sense.
They think this is exercising their right to protest when in fact it is not legal to go into a place of business to protest.
Tell me protesters, when do you plan on taking on the problem in the "black spaces". You know, those places where African-American gangs shoot unarmed teens that are NOT breaking the law? Those places that are the leading cause of teen homicides in the USA?
How misdirected these protests are. The protestors can reasonably be assured that they will be safe protesting at / in what they called white only eating establishments, but if this was a protest by a predominately group of whites in a so called black eating place, you can be reasonably be assured that the whites will be harassed, pushed, robbed, raped and assaulted. There is your equal rights.
Bottom Line: The blacks have become unhinged. After decades of being the least productive ethnic group in America, your time is up. The black family unit is in complete shambles. The crime rate among blacks is off the charts. Nobody trusts the black people. Michael Brown and Eric Garner would be alive today had they complied with police officer instructions. Disobeying a police officer is NOT an option. Black relations have been set back several decades.
My message does not pertain to the blacks who have left the pathetic Democrat plantation. Those blacks who are conservative are doing very well in America even though they are called uncle Tom's by liberal blacks.
Wow! Gotta love the media supporting and perpetuating racism. Targeting "white areas". How dare you judge anybody by the color of their skin vs their character. Leave it to the media though.