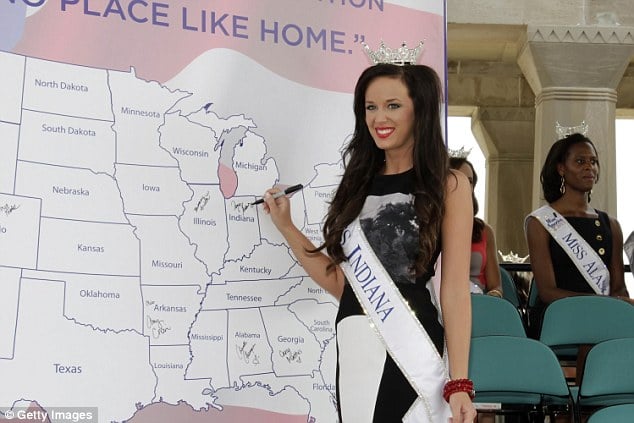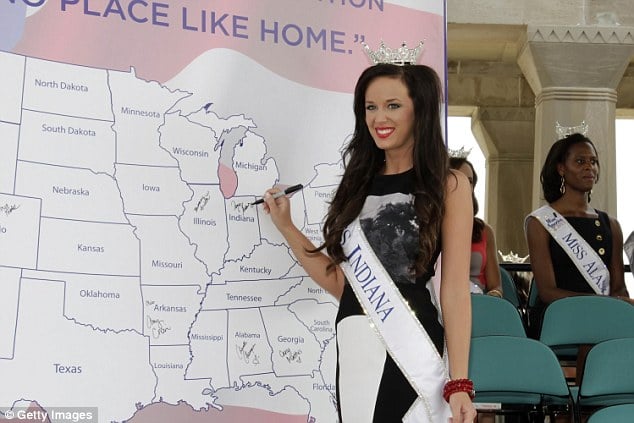 Terrin Thomas a former Miss Indiana pageant winner was arrested Wednesday morning on several alcohol related charges in Bloomington after attempting to break into her boyfriend's apartment at 3am.
Cops would come to be dispatched after a caller said a drunk woman was knocking on an apartment door for about half an hour.
The complaint would note that Terrin Thomas was banging on the door and yelling 'let me in.'
When officers arrived they found Terrin Thomas, who won the Miss Indiana pageant in 2013, still outside the door.
Bloomington police said our collective hero appeared to be drunk due to her slurred speech and 'abusive attitude' toward them.
The officer also reported noticing a strong odor of an alcoholic beverage coming from Thomas, reports the Indystar.
At the time the beauty queen was wearing shorts, a long-sleeve shirt and socks and told police she was looking for her boyfriend's apartment. 
Officers attempted to get a phone number to call the boyfriend, but Thomas said she didn't have her phone or the number.
Police said Thomas then tried to leave the apartment complex. After not listening to the officer's questions, she was arrested and taken to a squad car.
But it gets better.
According to cops, when Thomas was told to sit in the backseat, she refused to and pushed the officers away.
Eventually Thomas was subdued and and taken to Monroe County jail where she was booked in on charges of public intoxication, disorderly conduct and resisting law enforcement.
At present it is not understood why the boyfriend declined to answer Terrin Thomas's demands to be let in. Can you guess why?