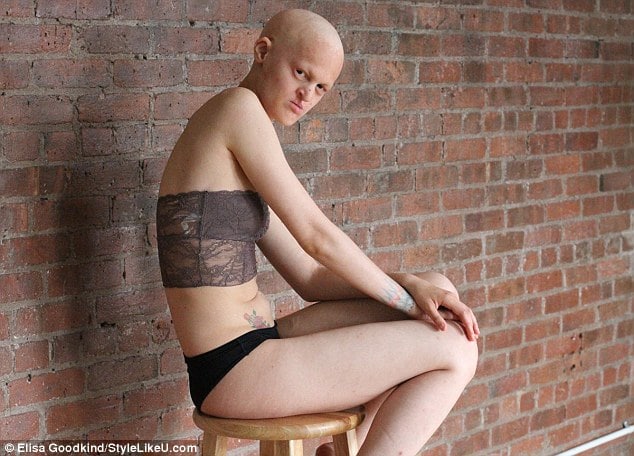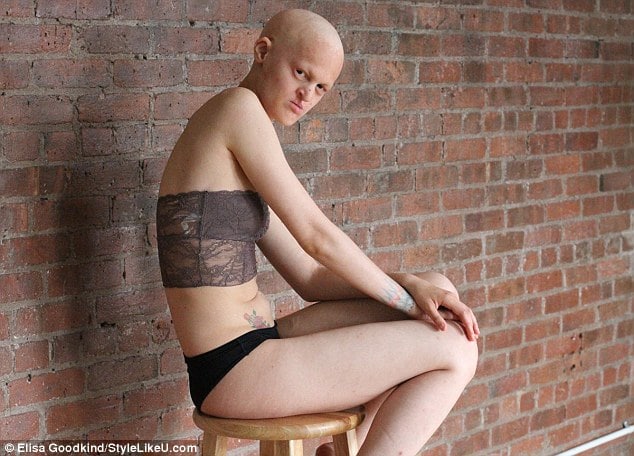 What's Underneath is a new daring video web series which seeks to challenge perception of body image.
The brainchild of former fashion editor Elisa Goodkind along with her daughter Lily Mandelbaum, the initiative seeks to unearth some truths in the way woman really feel about themselves and society's reluctance to embrace unconventional dispositions. This as they are asked to answer intimate questions during a process of disrobing.
Told Goodkind via an exclusive with the UK's dailymail: 'I've become disheartened by the increasingly soulless fashion world.'
"The primary objective of the project is to empower people to realize that true style is not about money, trends, Photoshopped imagery or a singular ideal of beauty.'
The series which has already found a home on n StyleLikeU has already featured a bevy of female guests, all of whom have had to endure disorientation with respect to their looks and finding their place in a world which all too often has boundaries and expectations on women.
Noted participants have included Tallulah Willis who opened up about her body dysmorphia. A state of being which wikipedia defines as a mental illness that involves belief that one's own appearance is unusually defective (worthy of hiding or fixing), while one's thoughts about it are pervasive and intrusive.
Willis has also been in the news of late having to contend with her struggles with anorexia and addiction, including cocaine.
Other participants include 62-year-old American Apparel model Jacky O'Shaughnessy and wheelchair-bound fashion editor Jillian Mercado.
But perhaps it's the participation of Melanie Gaydos who ironically has come to find solace in modeling (despite her insistence she is not beautiful) which offers the most vexing and contemplative regard of what women endure in the public eye. Matters complicated for Gaydos who has had to contend with a a rare genetic disorder called ectodermal dysplasia, which affects the hair, teeth, nails and sweat glands.
Tells the model as she slowly peels layer after layer of clothing: 'I think people think I'm pretty f*****g weird,'
 'A lot of people [in the fashion world] think of me kind of as a gimmick. It's pretty difficult.'
'I didn't really have a good family environment. There was a lot of alcoholism and abuse,'
The models confides her astonishment that she has been able to endure as many as '30-40′ surgeries, and the belief that she wouldn't live beyond 18, was just the 'icing on the cake.'
Asked what some of the happiest moments of her life have been, she describes modelling as something she 'loves' – a time for her to be 'completely open.'
During the interview, Gaydos mentions a Russian newspaper who named her as one of the '25 top ugliest celebrities.'
Reiterated the model: 'I never thought I was beautiful but also I never thought I was ugly,'
'For me beauty was always just a feeling or a state of being.'
The model, who was discovered while at art school in New York, reveals that after years of not wanting to be alive, she has recently found joy in the place she feels most 'vulnerable': being in love.
Her boyfriend, she says, is 'very present,' and has helped her to 'feel comfortable' with who she is.
It's when she's stripped of her lingerie at the end of the interview that the model is asked whether she would 'trade' with anyone else she ponders for a moment before replying, 'No.'
Adding: 'I think I'm like the only person that could deal with what I've been through, and I wouldn't want to wish what I have, or what I've experienced, on anyone else.
'I like where everything has brought me today. I like where I am.'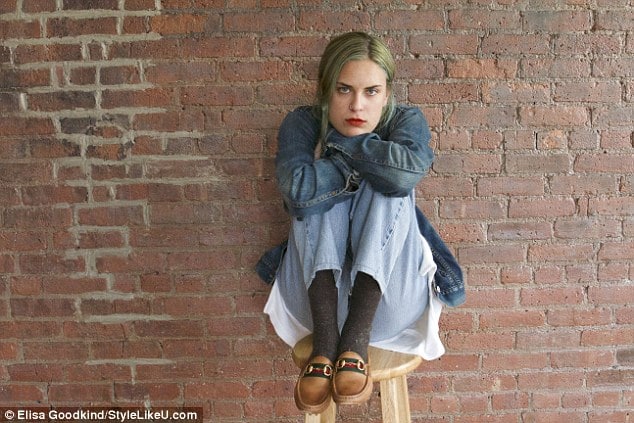 Also willing to bare all for What's Underneath was Tallulah Willis who came to be filmed in April two months before checking herself in rehab for cocaine and alcohol addiction.
Speaking of her eating disorder, which Tallulah claims shrunk her down to 95lbs, the 20-year-old said: 'When I lost my curves and my boobs shriveled up into nothing and I had no shape… I viewed super-skinny me as the smart, intelligent me.'
Since gaining weight and working on her body dysmorphia, which she says centers mostly around her face, Tallulah says she's uncovered a more authentic aspect of her personality.
'I can talk and have a conversation with someone now without being drunk and naked and the life of the party,' she remarks. 'It's crazy to like yourself, not the way you look.'
Reflecting on the state of pop culture and fashion the celebrity tells: 'For the most part, is very much about "look what designer thing I'm wearing and look what bag I'm carrying with these people at this event that you can't go to," and you're not even enjoying it!'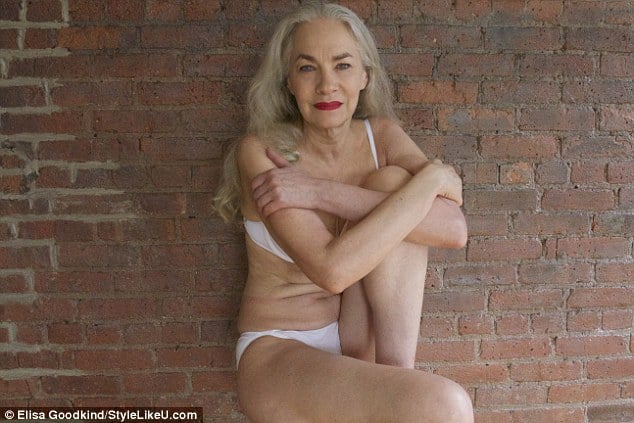 Offers 62 year old American Apparel model Jacky O'Shaughnessy who also came to be featured: 'I think there's just an epidemic of poor body image, certainly for women at my age and getting older,' she says, adding that an ex-boyfriend of six years once told her: 'You're too old; I don't want to be seen with you in public.'
Jacky admits to having plenty of insecurities, but says a therapist has been helping her to gradually let them go.
'I would think, "Why is my weight fluctuating and why do I drink too much wine sometimes, why am I not sleeping?" The bottom line is, I wasn't happy with myself.'
These days, she has a more solid outlook. 'I don't want to wear a one-piece,' she remarks. 'I'm always going to be in a bikini. I don't care if my stomach's wrinkled.'
For wheelchair-bound fashion editor and sometimes-model Jillian Mercado, who has faced campaigns for Diesel and Nordstrom, she thinks there's beauty in diversity.
'It's boring to see the same people,' she states. 'If you're different, that's sunlight in somebody's world.'
Jillian, whose muscular dystrophy is a result of a 'f**ked up birth,' admits that her biggest insecurity are her legs. 'Even being in a skirt right now,' she laughs, later remarking: 'It's like I'm an art exhibit or an alien.'
Before adding: 'If you have big boobs, embrace it,'
 'If you have big thighs do it.'
The dailymail goes on to canvas other notable individuals who reflect on their endearing sense of self, their limitations and by the end of the read perhaps a regard of the world's limitations which so often forces so many women to turn inwards, sometimes with great pathos and other times as What's Underneath sets to discover triumph of one's own femininity.