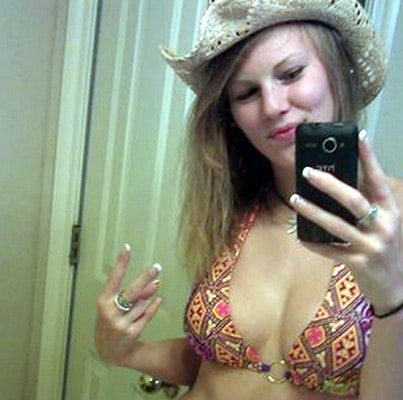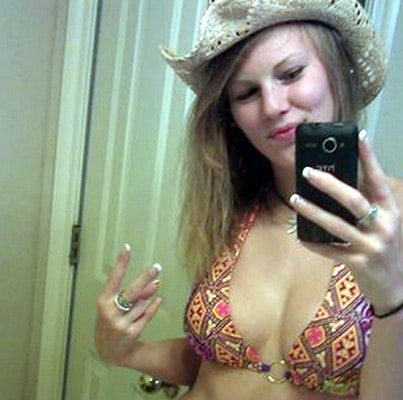 It seems Alicia Walicke has little inhibition when it comes to showing her love and commitment to her boyfriend when the Cedar Park, Texas 22 year old took to robbing a local corner store with the hope that she too could make her way to jail after having accidentally having had her boyfriend arrested.
Alicia's plan was simple, pure and full of folly, but that might explain the extent of her love when the young woman decided to steal a $3.99 bottle of Mad Dog 20/20 wine which saw her pretty self indeed land in jail (woman's jail unfortunately for Alicia Walicke).
For those not in the know, Mad Dog 20/20 is a sweet, cheap wine described by Urban Dictionary as being 'majestic as the cascading waters of a drain pipe.'

For her troubles Alicia, who mightn't be so bright in the idea departments (but her pictures paint an interesting portrayal of her other potentials…) would come to be charged with misdemeanor theft and eventually released on a $5000 bail (ouch!) this past Friday.
Explains huffpo: An arrest affidavit says police found the woman outside the business and drinking the wine. The affidavit says she told police that she wanted to see her boyfriend, who was arrested hours earlier, and told them wanted to go to jail.
Interestingly Alicia's arrest warrant would tell that she had been previously charged with assault against a public servant in March when she bit a Cedar Park police officer's arm while officers were trying to restrain her after she became combative when they responded to a call about her making suicidal threats. At the time cops believed our collective heroine was under the influence of an unknown drug (good shit) and were trying to get her medically evaluated.
Cops in Cedar Park, 15 miles northwest of Austin, have since declined to identify the boyfriend or say whether the woman saw him (you think?)
Police didn't immediately return messages Saturday. Can anyone guess why?