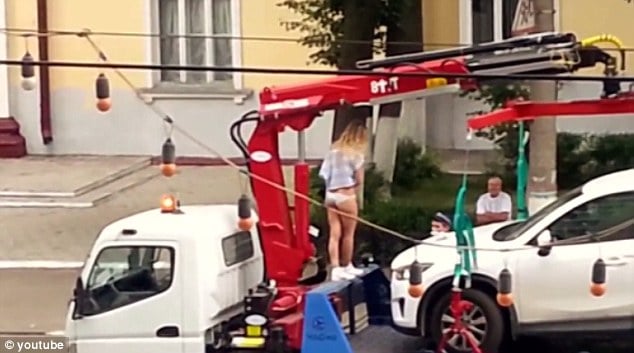 Russian street goers were met with the unseemly visage of a woman who took to stripping and pole dancing with the hopes of preventing her car from being towed away.
The scene which would be caught on video shows the blonde motorist stripping and pole dancing in front of stunned Russian police.
Told Anatoliy Aleksandrovich who later posted a video of the striptease on the web: 'Look at how far some drivers go to stop their car being towed away.'
'This lady did a real show, trying to stop traffic police from taking her car away,'
As our collective hero dances – strips to her knickers and a top – she attempts to negotiate with cops, but to no avail.
Told Aleksandrovich: 'Legally she was right to stop them as by law police can not take away the car if the driver is present,'
Legally correct to be present, but legally incorrect to resort to stripping….
'Despite the girl's best efforts the car was still taken away.' 
Some comments suggested the Russian motorist should have used a more tried and tested system with the Russian traffic police.
Many drivers find that a small cash bribe can prevent their car being taken away, or avoid punishment for other road offences.
Isn't it time you resorted to stripping next time you go astray of the law…?