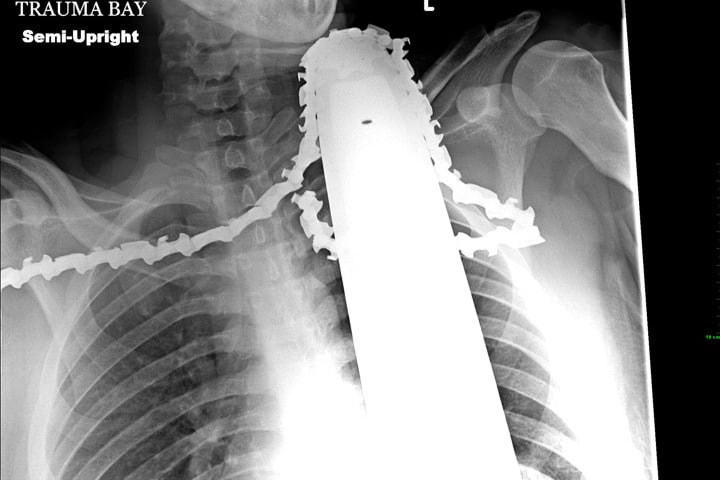 James Valentine, a Pittsburgh man has survived having a chainsaw lodged in his neck after the tree trimmer came to experience an unfortunate accident.
The man was cutting a tree in the town of Ross Township yesterday afternoon when he came to be stuck by the saw. At the time another worker helped him down front he tree and rather than attempt to take the saw out left it in place as James Valentine was rushed to hospital.
After emergency surgery at Allegheny General Hospital, doctors told Valentine was fortunate that the saw had only cut into his muscle and had only missed major arteries which would have seen the tree trimmer almost certainly bleed to death.
The hospital later released the above X-ray showing the saw still in the 21-year-old's neck.
'He was extraordinarily lucky and very blessed,' said trauma surgeon Christine Toevs.
Told James Valentine: 'It was just a freak accident. It could happen to anybody climbing a tree,'
'The chainsaw came back at me and got stuck in my neck.'
He added: 'Just seeing the blood just squirting out, that was crazy.'
Valentine works for Adler Tree Service in Gibsonia. Owner Dominic Migliozzi calls the rescue 'amazing.'