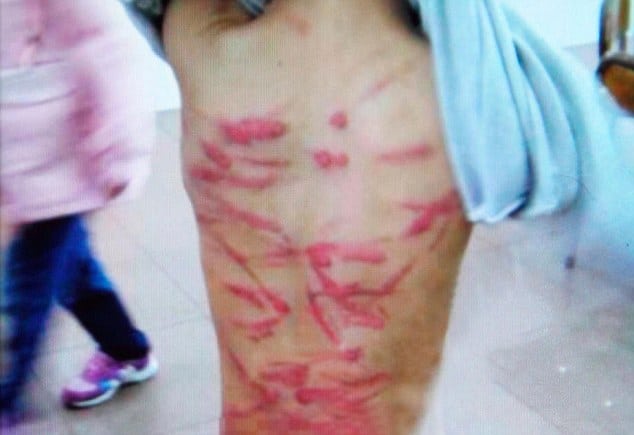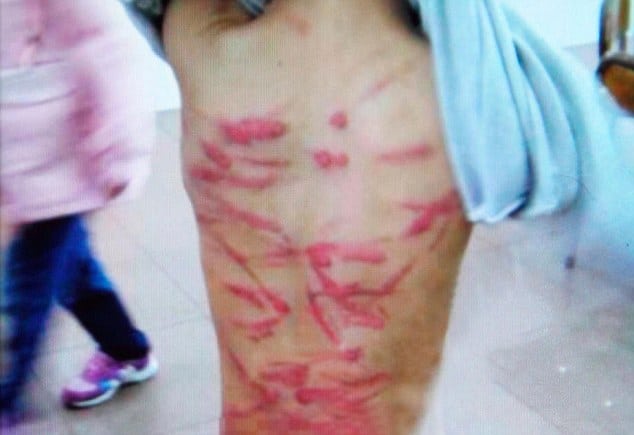 Consternation has come to the fore after images released of a Chinese mother beating her son with a coat hanger made the social media rounds.
At the time, the mother of the six year old, Xiao Bing told attending cops that she had been forced into punishing the boy for being 'naughty' after failing to do his homework.
The child's injuries first came to be reported after a school teacher came across the boy's horrific scars as he changed at a local nursery in Jiangmen city in China's southern Guangdong province.
Shocked by the nature of Xiao Bing's injuries, the teacher took photographs on her mobile phone and handed them over to the police.
Nevertheless despite what appears to be a resounding beating, cops said the boy's injuries were 'not as bad they look.' 
Police said that the boy had been taken to hospital for treatment, but that the bruises and red marks quickly reduced in size and he was allowed home the same day.
Cops reiterated that they advised the mother not to beat her child so severely in the future.
In China punishing and shaming children, especially in the hopes that they excel at school is often seen as part of ordinary child rearing.
Told police spokesman Hu Lung said: 'The boy's mother and father are unhappy about his performance at school, saying that he is a naughty boy who often fails to do his homework and needed to be taught a lesson,'
'His mother had hit him after discovering that once again he had not done his homework on time.'
Whilst the child's parents thought the matter had been resolved, Xiao Bing's teacher was less than thrilled with the way police handled the abuse the child had incurred at the hands of its mother. Outraged the teacher posted the images she had photographed online, hoping to bring to attention the many pressures Chinese children are forced to reckon with as they are prodded to excel at school.
It is believed the excessive pressure to academically excel has a lot to do with the small birth of openings that exist at universities and society and the fierce competition amongst parents to see that their child gains entry to such facilities given the often bleak alternatives. Excelling at school is often met with the prospect of raising one's social standing in life, albeit at what cost?