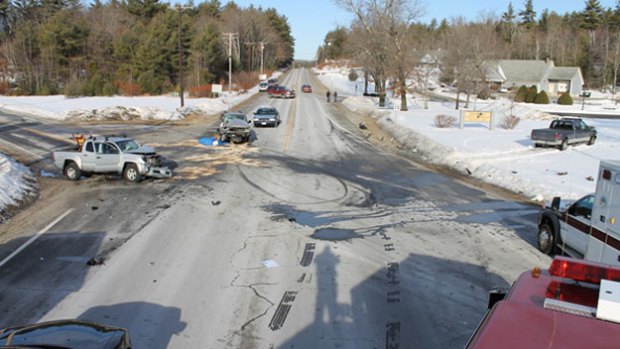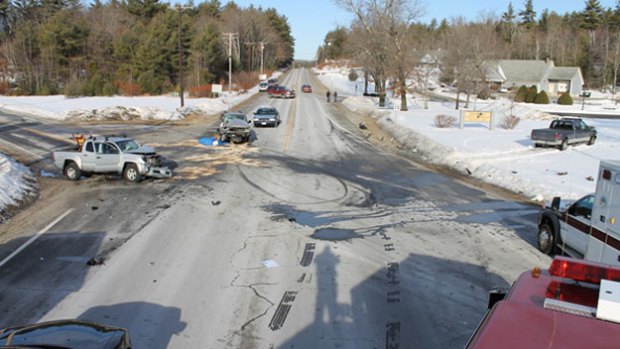 Steve Whitcomb, a volunteer firefighter who was first to arrive at a crash scene that would end up killing a woman would come to find out that the woman whose life he had attempted to save was his very own daughter.
The tragedy came to pass this Christmas Eve, when Katie Hamilton, a 30 year old mother of three would come to veer off the highway into oncoming traffic after a car knocked into her.
Authorities tell there were three cars in the accident. Reports now tell that Greg Cullen, 31 of Milford, New Hampshire first rear ended Katie Hamilton's SUV.
The accident had come to happen after Hamilton had either stopped or was slowing down to take a left turn when she was smashed from behind, forcing her head on into oncoming traffic.
Told Brookline Police Chief Quigley: 'At the last minute – we don't know if it was driver distraction or what the cause was, we haven't been able to determine that,'
'He swerved to avoid hitting her and still struck her on the very right rear corner of her vehicle, forcing her to come over to the northbound lane.'
That's when James Ciprotti, 37, of Weare, New Hampshire, smashed into Hamilton head-on in his Ford F-250.
Told David Miller, who lives near the site: "It's a dangerous intersection,
"The speed limit really needs to be lowered."
At the time of the crash, Steve Whitcomb, 58, who owns a heating and air conditioning business in the town of 5,000 and volunteers as a firefighter in his spare time, was one of the first firefighters to arrive at the scene. It was only after the deceased woman was identified did he come to realize the woman was his own daughter.
Family members-heartbroken by the tragedy-tell Katie worked as a plumber for her father's business and was a great mom to her three daughters, all of whom are under the age of 10.
At the time Katie Hamilton was on her way to her parents house which is just about a minute away from the scene of the crash.
Told Steve Whitcomb, the father: "You grieve and then you try to put it all back together."
Brookline Police Sgt. Douglas Barnett said the accident is still under investigation but police do not believe speed or intoxication were factors in the crash.