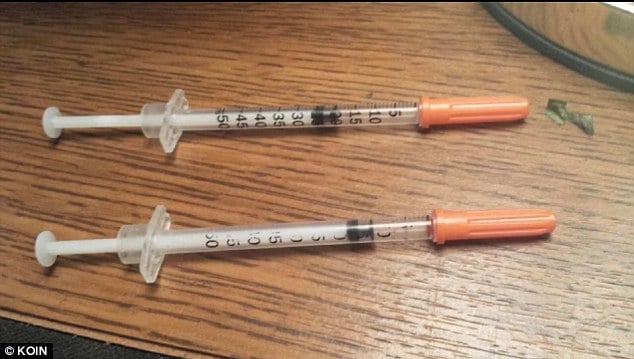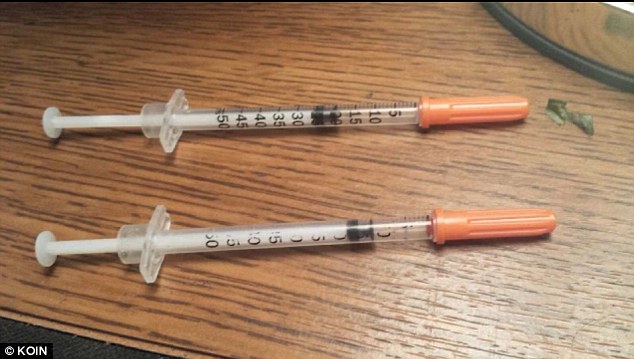 A 16 year old Washington boy went to receive the shock of a lifetime after pricking his finger on a used syringe after putting his hands in the pocket of a brand new hood sweatshirt his mother had bought for him.
Trying on the sweater his mother had bought for him from a local Walmart store Christmas morning, the boy came to feel a jab after withdrawing his hand from the sweater's pocket.
In telling how her son came to prick his middle finger, the mother, Nanette Snyder told how she had acquired the sweater at Longview Walmart, brand new in November and had kept it wrapped and ready for Christmas ever since.
Yet things got dicey when a second syringe was discovered in the pocket, with both needles having traces of blood on them.
Told the boy's step father, Tom Bayse: 'You do not expect on Christmas morning to be opening presents to find dirty, used needles in your Christmas present.'
'I was just numb.'
The boy was taken to the emergency department at St John Medical Center in Longview where he underwent HIV and hepatitis tests.
The tests have not yet been finalized but even if initial tests are negative, the boy will have to be tested again at six weeks, 12 weeks and six months to confirm he is completely free of the diseases.
According to the Centers for Disease Control and Prevention, it is possible to contract HIV from a needle-stick injury, though rare.
Walmart's corporate spokesperson Betsy Harden says the company is investigating the family's claims.
'We take this very, very seriously and we want to get to a better idea of what could have happened,'
Harden went on to add that the store has not received any other complaints about needles in the merchandise.
'He's hanging in there, still pretty distraught about the whole situation,' Basye said of his stepson. 'He'll feel better after all the blood work comes.'