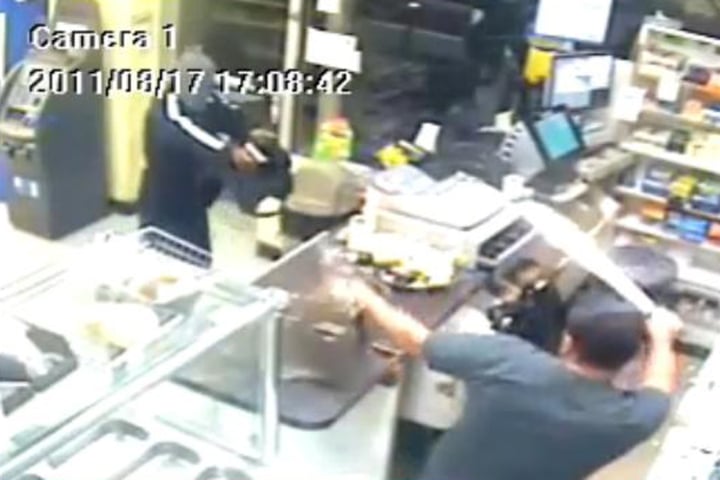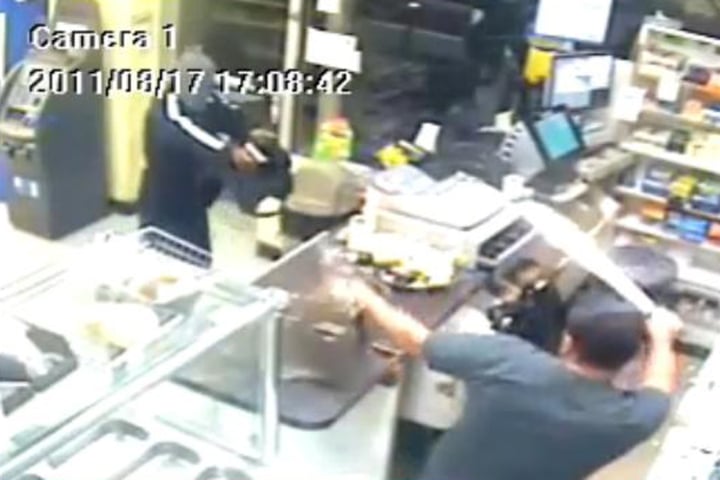 Most of us when confronted with the idea of a gunman coming to rob our store just sensibly grimace and hand over our money. Not one machete wielding store clerk…
Watch and learn….
Setting and time: Stop & Shop Deli on Crooked Hill Road in Brentwood, Long Island at about 8 p.m. Sept 25th.
nypost: The crook, carrying an Air Jordan backpack, demanded cash, but the plucky worker hesitated even though the gun was pointed at him only inches away.
The robber then cocked the handgun and pulled the trigger, firing a shot into the wall that barely missed the clerk, who only flinched slightly when the gun went off, the video shows.
The cool-headed employee then pulled a machete from under the counter and chased the feckless robber out of the store and through the parking lot.
Told owner Elena Alvarado whose joint has been robbed more than a dozen times in the last fourteen years: "I'm proud of him. He did good but it was too dangerous. He put himself at risk but I'm glad he's OK. He's lucky he didn't get hurt."
Him being her nephew.
Alvarado interestingly goes on to add that she believes the crook was a regular customer before the robbery, and that his ass has even come back since.
She also adds that her nephew thought the gun was fake at first. As if that shit really bothered him anyway.
Hopefully Alvarado has been gracious enough to offer her nephew a pay rise, bixch earned it….
Isn't it time you kept a machete under the counter too…?