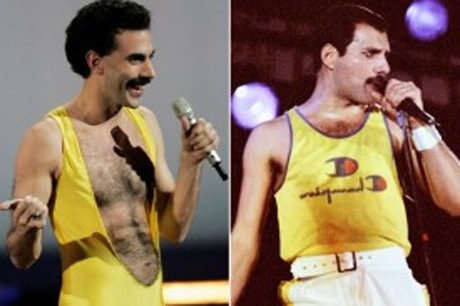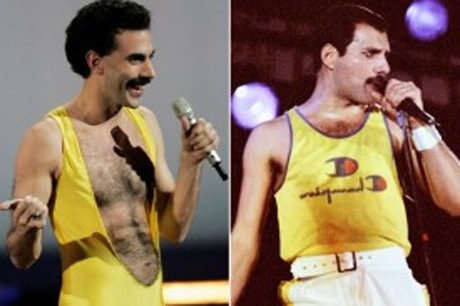 It seems tensions between Sacha Baron Cohen and the remaining members of Queen have finally come to the boil with the funny man deciding that after three year discussions with the band of how to portray Freddie Mercury in an upcoming film project that he now wants out.
Press reports go on to say that Sacha Baron Cohen envisaged a racy treatment of Mercury which would have gone on to depict the front man's salacious lifestyle. Band members though were more desirous of a more 'family friendly' interpretation of Mercury.
In fact so resolute was Cohen in portraying the nitty gritty aspects of Mercury's rough and tumble behind the scenes lifestyle, the funny man had brought on Peter Morgan, the Oscar-winning screenwriter of The Queen, to work on the script and lined up film-makers of the calibre of David Fincher or The King's Speech's Tom Hooper to potentially direct.
Although Cohen is said to have championed the front man's flamboyant gay lifestyle concerns seemed to weigh in on whether an appetite actually existed to show gay themes as noted by the initial reluctance of Hollywood studio heads in backing Steven Soderbergh's 'Behind the Candelabra,' focusing on the behind the scenes life of Liberace.
Then again one supposes the remaining members of Queen ( Brian May, John Deacon and Roger Taylor) fear turning off today's modern fan who may or may not be quiet ready for the real man behind the music. Which just might be another way of saying why rock the royalty flow…?
With the film originally scheduled for release next year, Cohen's departure puts the film's future in jeopardy.
via Deadline.com