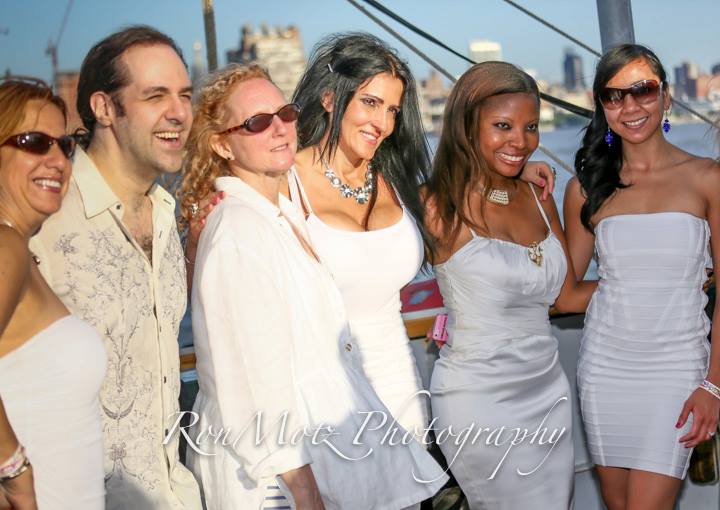 This past Thursday saw a gallant crowd attend Oceanie Club's annual 4th July of celebrations, co chaired by Jason Juliano of SoTechie Spaces at Weehawken's Lincoln Harbor Yacht.
Wih Oceanie Club's ever gregarious co hosts, Maggie and Hubert Delany as master of ceremonies, guests attended in all white as they gathered to partake in the good cheer, festivity, revelry and arguably the best seat in the house when it came time for the fireworks.
Making a splash entrance this year was the Mystic, a 170 foot replica recreation of the original Mystic with sails brimming, a full deck, crew, on board chef which the Delany's have taken to making their private hide away this summer. That said I was also told later that the vessel holds up to 17 guest rooms which the Delany's lease out from time to time as the yacht makes abundant voyages on the East coast going forward this summer.
From what I could see most guests were well behaved, which is a shame when a tabloid writer is always wanton for some debauchery although I do suspect that Jimmy Mack who went on to play his racuaus brand of rock was increasingly on the edgy side as the evening progressed but then again that's a rock star for you.
A gracious thank you to Maggie Delany, Hubert Delany and Jason Juliano for putting a great show and being quite the lovely hosts and to all the other guests who marveled me with their childhood expressions as the fireworks started crackling in our direction. A lovely evening indeed….