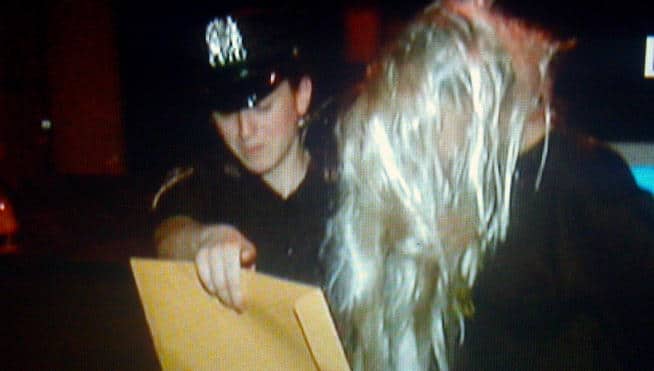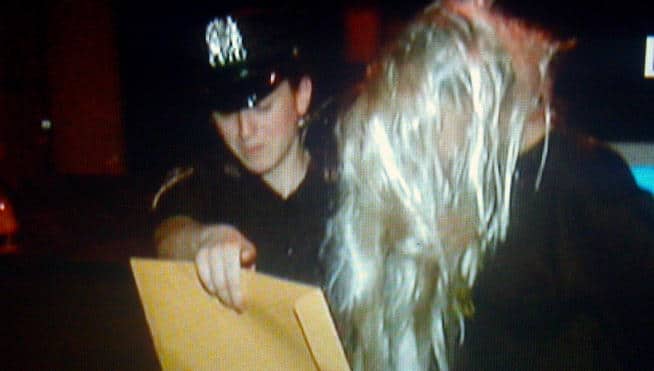 In the ongoing meltdown of media whore du jour Amanda Bynes, the fallen actress has now found herself taken in for psychiatric evaluation after she was arrested for throwing a foot long beaker bong out of her 36th floor Manhattan apartment window.
The incident came after police arrived to speak with the actress about her alleged marijuana use last night in the lobby of her West 47th building after leaving behind a noxious order and billowing smoke.
From there our hero was taken to a hospital for psychiatric evaluation before her ass was booked and thrown in a police cell where she now awaits court appearance this morning. It is said she was booked with criminal possession of marijuana, reckless endangerment and tampering with evidence.
Cops went on to say that when they attempted to speak to the actress she threw her bong out of her window in full view of them, earning herself charges of reckless endangerment.
At the time of her arrest, Amanda Bynes was wearing platinum blonde hair extensions (naturally) and a black Versace sweatshirt. At the time of her arrest her highness was said to have also exclaimed"Don't you know who I am?" 
The latest incident follows a streak of erratic behaviour including what can only be described as bizarre public outings and online postings.One recent beguiling incident included the actress being stopped whilst attempting to board a private jet last weekend for not having correct identification.The UK's dailymail goes on to tell since the actresses driver's license has been suspended and that she had no other form of ID, Bynes had gone on to tell the pilot to search her name on Google (under trash tabloid) to prove her identity.
The pilot checked with the jet company, but they were adamant that no special treatment be given and Bynes was not allowed on the flight.
The actresses bizarre antics are said to have coincided with her retirement from acting and move last year to New York.
The latest episode is sure to fuel fire that the actress is in desperate need of help and is acting out a cry for help or it may well be that the actress just does not care and is behaving in a way that perhaps many of us wish we could get away with had we her money, clout and temerity to live the impossible.