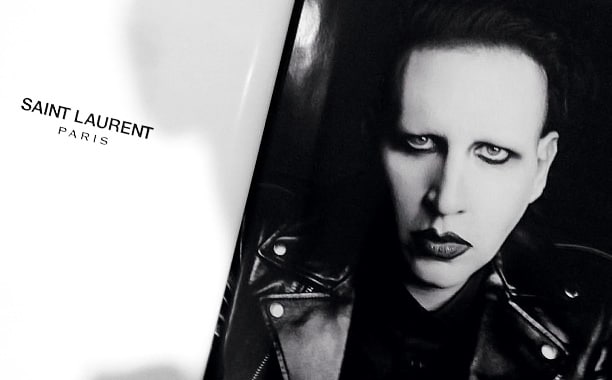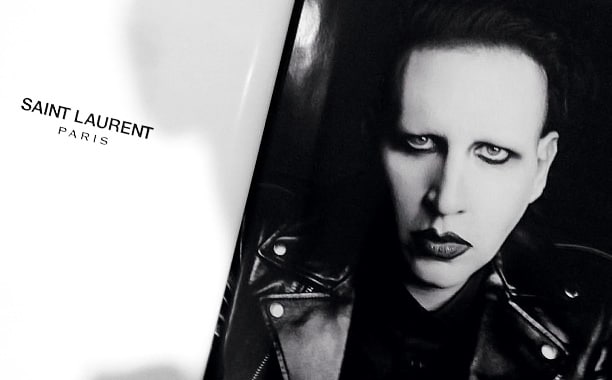 Kids here's an eye opener that says a lot about changing tastes and what some fashion art director types consider convivial and eye catching and what most of us would consider repulsive. Then again time will tell if Saint Laurent's choice of using ubiquitous media whore Marilyn Manson in their upcoming spring campaign will pay off or not. One thing is for sure, it is sure to make you all notice…
Reflects jezebel: Casting the 90s star in an ad is just one of the many things Hedi Slimane is doing to revamp the fashion house's brand image that you are probably not cool enough to "get."
Of course the risk is we all get it too well  and back the hell away too…
Reflected one fashion insider to me this evening:
I'm not surprised in the least bit. Hedi's aesthetic is heavily about youth culture as evidenced by his fascination with punk all ages as the subjects in his foray into photography during his hiatus (think it was for 2 yrs) from the fashion industry.
Now that Hedi lives in LA , watch out for more inspirations from LaLa lands abundant music/youth scene….
ps: I do believe Mr. Manson resides in LA and i can already see Hedi socializing with the upper echelons of LA'S music scene and
being influenced directionally by their style.
above image found here