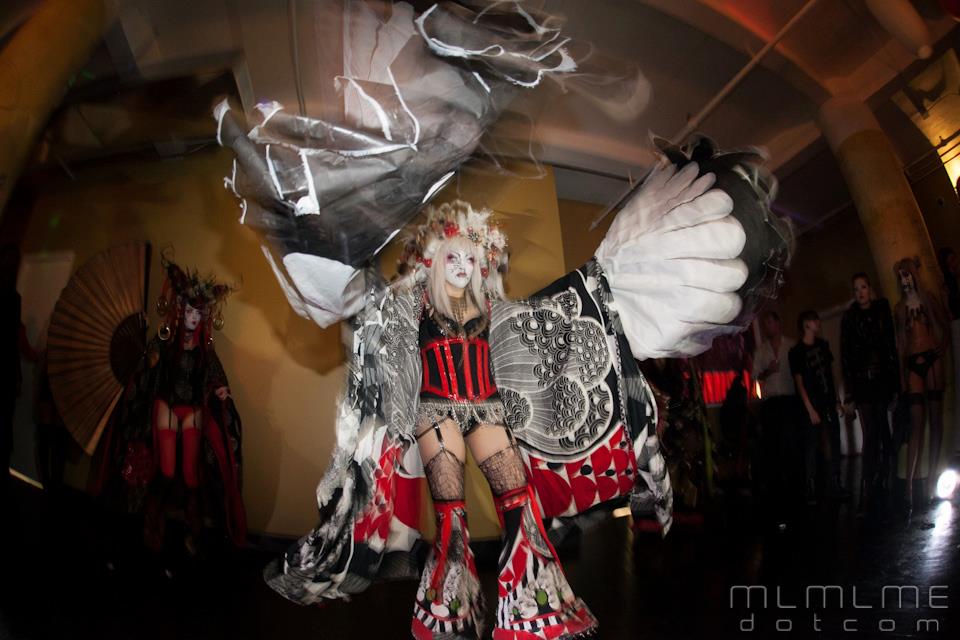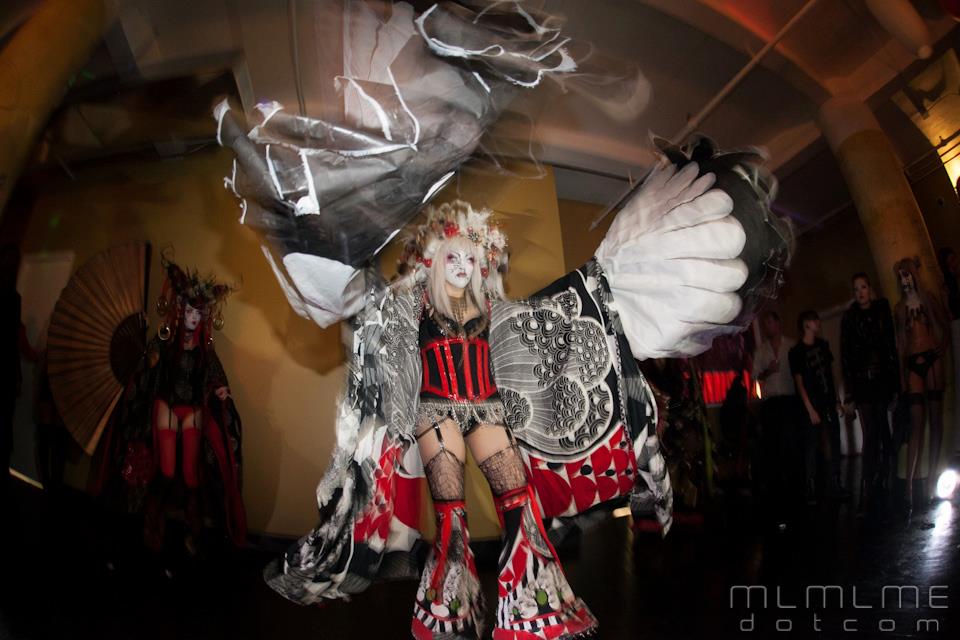 I'm staring at the skimpy geisha boys and girls gyrating in front of me, my eyes following the contours of their masks, their supine bodies as they gently thump in the darkness amidst eclectic electro music.
Standing somewhere behind me is the visage of R. Sax (Sax DMA), a pale looking figure with jet black hair  with shaved sides who carefully scans the scene, nonchalantly nodding his head, breathing deeply in the rendezvous that he has carefully manufactured.
Where we are is some expansive non descript loft somewhere in midtown Manhattan, NY in the early part of night. Yet what does time matter when one is busily devouring the myriad of sensations taking place.
Called the Vanilla Party, the grooving entourage is reminiscent of a bygone era of a distant NYC which has seen nightlife go from brusque, clandestine, anything for grabs to a kaleidoscope of velvet ropes, nagging club promoters and bottle service. If you look around you'll see none of that. And thank god.
Part fetish, part fashion, part acrobatic, part performance, part electro, part tattoo, part Goth, part apocalyptic, part Berlin grit, part totally risque, part ritual, part kink, part fantasy and part hyper reality. Or perhaps just to be blunt astonishly surreal and a delicious mouthful.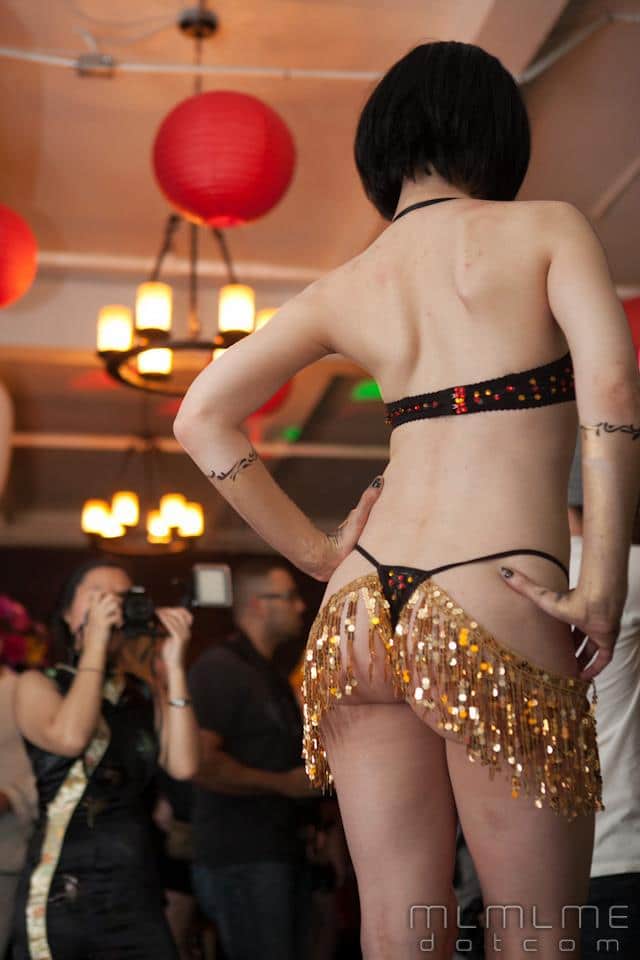 The brain child of Sax DMA, a former musician who has seen his fair share of the scene and that of Defenz  Mechanizm, a glamazon aesthete (notable costume designer and event producer who these days spends her time flying across the US putting on as well as starring in cult stage dance performances) who has a strong following out of Orlando, Florida where she is known to be the goddess of fetish, performance art and theatrical dispositions.
Amazed by her following and the candor of her performance, Sax DMA started wondering if he could do something similar in NYC which might inspire aesthetes, the enthused and the simply giddy and curious. Or to put it mercilessly Sax DMA started wondering if he could finally add a dimension to NYC nightlife that has been sorely missing.
'We put on our first party back in July of 2012 (Smooth and Creamy) and we were astounded by the turnout and response. It really made me think that there was an appetite for something like this and that only got me thinking about future projects.'
Not surprisingly who also reckons Sax is onto something that just may change NYC nightlife now includes Blaqlist who are in the major business of navigating nightlife in NYC.
"And suddenly I'm getting this phone call from Blaqlist. That they want to sit down and meet and talk ideas, how they could get involved and be a part of bringing this brand of entertainment meets nightlife meets art meets theater  going forward.'
As I listen to Sax DMA appears the statuesque visage of Defenz  Mechanizm who takes to center stage as she slowly ingests the sounds, the furore, the beats, the accolades, the sweat, vogueing a delicious presence as if one had suddenly been treated to an impromptu concubine performance, mind you in glam, swag and dangerous delicious kink.
Sax holds his breath and suddenly the kids go wild as he continues to survey the unfolding canopy of delicious unleash. If he's smiling or elated he barely shows it as he now takes me over to the body painters. I politely decline when it comes my turn to be painted stripes and spunk.
From there Sax DMA proceeds to explain that although putting a one off evening may look simple it is anything but as he proceeds to regales the complexities of  having to find the right venue, right dj's (he has since brought on some highly respectable talent including Defacto Obsolete, Conchita Black, Rogizoid Shatterz, Porphyria, Underjoyed and Tifa Reed Hilton), performers (who he makes a point of paying before he gets paid), go go dancers (Apathy Angel and Von Dish), rope artists, models, acclaimed make up artist Durga Usagi,  sponsors and of course getting the word out amongst friends once things are finally set to take place. He then goes on to  pay thanks to co ordinator/business manager Lali Muthusamy who has helped him keep the productions free flowing.
Offers  Sax DMA when asked if the idea of fetish might be jarring to some he pauses before answering the following:
'The term 'fetish' and the current scene is a rather dated one in NYC. We have evolved the image and scene by employing a more colorful and inviting production.
'The idea is to expand the appeal by not letting ourselves be coined as 'just another fetish party.' 
'In reality what you see in front of you is an expression of alternative hi art that may be fetish inspired, but completely accessible by everybody. The themes will always change, depending on what inspires Defenz and whatever she may be exploring at any moment. Yet ultimately the idea is not to be bound by construct or warped expectations but of the myriad possibilities and experiences that one can have that is long overdue in NYC.'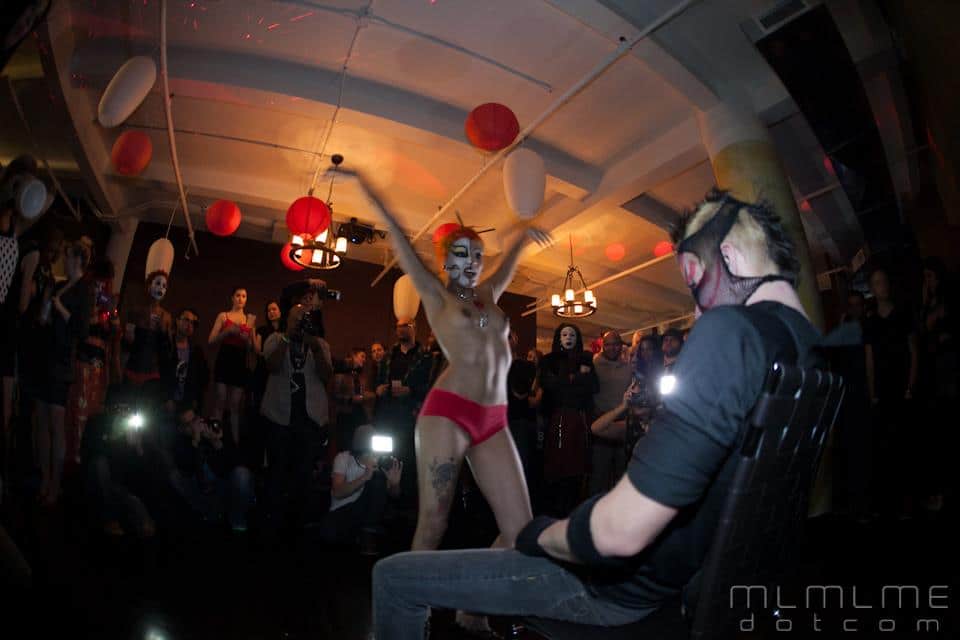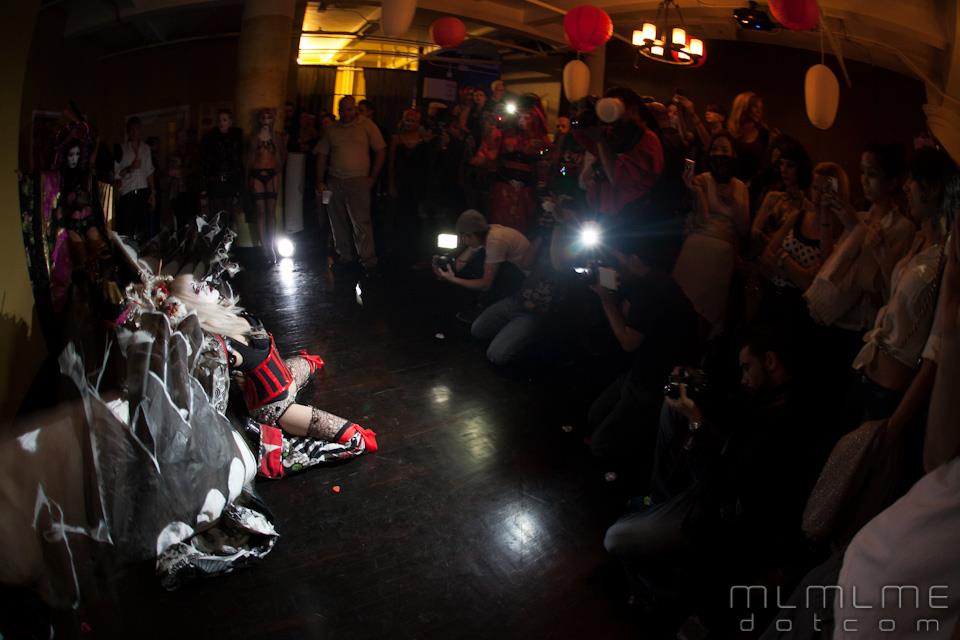 He pauses again to consider the scene, his wet dream coming ever alive with each crescendo beat throbbing the crowd.
'In the end our parties are done in good taste so there should be no reservation from any attendee. The intent is to continue pushing the boundaries of what fetish means through a continued, conscious and collaborative evolution at future events. If anything the idea of fetish is almost incidental, as the onus of the evening is to explore interactive dynamic between guests and performers.'
He takes one more breath and now begins to betray a smile:
"Ultimately it's about letting yourself go and immersing yourself with a dynamic environment and taking a leap of faith. Call it theater meets nightlife, call it art meets nightlife, or maybe still call it giving in to the permission of just letting yourself go…."
Photo Credit goes to Warren Whitmore of MLMLME and Video credit goes to Steve Glass.
To find out more about the Vanilla Party and their next rendezvous go here.
You can also read up about past events and feast your eyes on more pictures here too.