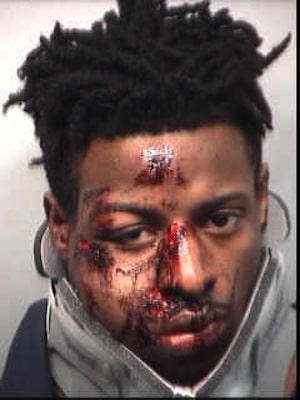 Here's an interesting story making the rounds. That of 20 year old Frank Emmit Nance who was charged this weekend with allegedly shooting a police officer during a foot chase in Altlanta. But what's even more disturbing interesting is how Nance ended up having his face beaten to a pulp  during the so called 'police chase…..'
The arrest came over the weekend courtesy of Officer Reggie Robinson, who only just graduated from police academy this past November. Apparently he was shot at whilst investigating suspicious behavior and for his troubles ended up at Grady Memorial Hospital.
Nance for his part has a stellar history of being in and out of jail over the last 4 years and during his recent arrest was charged with aggravated assault against a police officer and possession of a firearm as well as possession of cocaine.
To date no explanation has been offered how Nance sustained his extensive injuries, nevertheless APD spokesman Gregory Lyon said the department's internal review board will investigate all aspects of the shooting — as they do any time an officer is involved in a shooting — to ensure all policies and procedures were followed.
Anyone want to guess what their 'investigation' will turn out…?
Then there this comment that caught my eye as well:
You guys are all making this out to be police brutality when I think we all know that black ALWAYS resist arrest and need to be beaten into submission.
via ajc