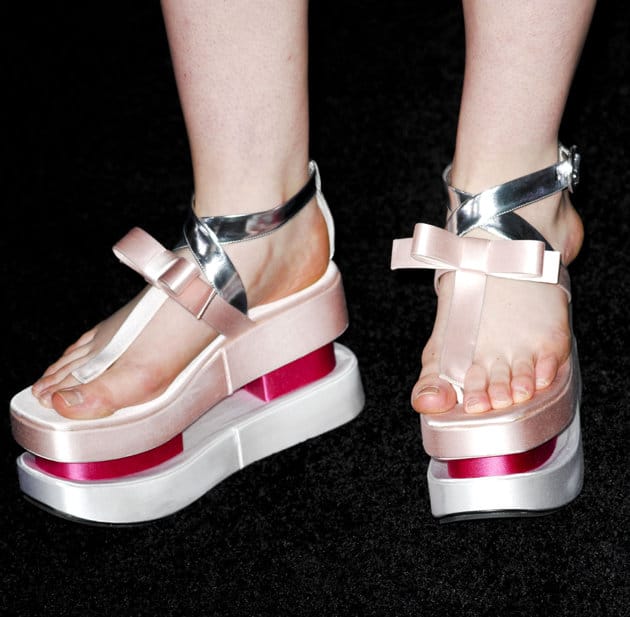 Elle Fanning is a hawt bixch too.
Kids all eyes were flummoxed last night night not on the hoi poi of movie stars that had gathered to ring in the Breaking Dawn Part 2 premiere but rather on the block wedges growing from the soles of Elle Fanning's feet.
Wearing the Prada Geisha shoes, Elle cut a discerning figure as fellow movie stars and fans alike attempted to make up their minds as to whether to sidestep her as she clambered down the red carpet or to beg her to climb on top of that nerve pinched shoulder and kneed it with that steady foot of hers.
Resembling something that a back street hooker would wear in a third rate red light district (you know the type where every bright red lipstick, blonde wig and tight mini dress you run across looks like a polyester imitation of the one that came before it) Elle sashayed onto wanton photographers who were dizzily focusing their hundred thousand dollar lenses not on Elle's baby face but rather her clod feet. Cause even a paparazzo knows what sets tongues wagging.
Which is a back hand way of saying if there was any reticence from the youth of America about acquiring these hooker like slut shoes made to smile yippee, rest assured the kids of America will be soon strutting in them with abandon. Where Lady Gaga used to set the trends of America that responsibility has now solidly been passed on to Elle Fanning….