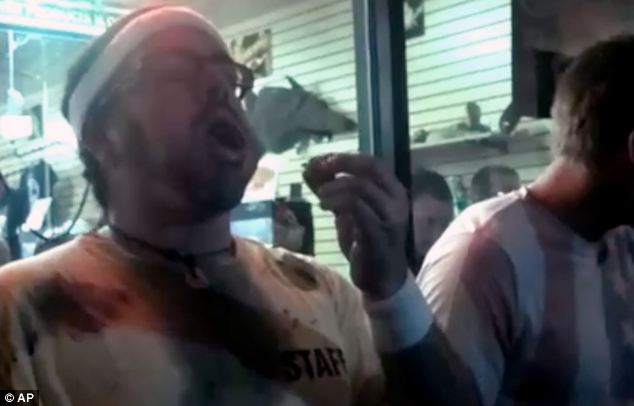 One would think that eating roaches in and of itself ought to bring one instant death, but authorities are now trying to piece together the mysterious death of 32 year old Edward Archbold who this past Friday evening had participated in a live roach eating contest at the Ben Siegal Reptile store in Deerfield Beach, Florida (and won mind you) where upon he collapsed a short time after the contest and mysteriously
According to organizers, up to 30 contestants had participated in the Friday night insect eat off contest with the grand prize being a python (to of course help in eating the inconvenient morsels in the winner's down time). Yet none of the other contestants had experienced any pain or illness that would indicate something amiss with the contest itself (although one has to intuitively wonder how savory of an experience jamming 40 insects down one's mouth really is in the first place?).
Reflected Michael Adams, professor of entomology at the University of California: "Unless the roaches were contaminated with some bacteria or other pathogens, I don't think that cockroaches would be unsafe to eat. "Some people do have allergies to roaches," he said, "but there are no toxins in roaches or related insects."
Offered Ben Siegal, the host of the contest via the nydailynews:
"We feel terribly awful," said store owner Ben Siegel, who added that Archbold did not appear to be sick before the contest. "He looked like he just wanted to show off and was very nice," Siegel said, adding that Archbold was "the life of the party."
A statement from Siegel's attorney said all the participants signed waivers "accepting responsibility for their participation in this unique and unorthodox contest."
At present authorities are awaiting the results of an autopsy and toxicology report to determine the exact cause of death.
But then there's this:
Authorities don't believe Archbold, 32, suffered an allergic reaction to the insects, which are eaten all over the world.
"He was inhaling the cockroaches so fast to win the contest that he probably choked on shell shards," said the source, who asked to remain anonymous. "They (investigators) are looking at the speed he ate them. Roaches are pretty dry and their shells pretty hard. He probably didn't chew the roaches properly."
Isn't it time you choked on a cockroache's head sometime after supper this evening as you help yourself to some indelible desert…?