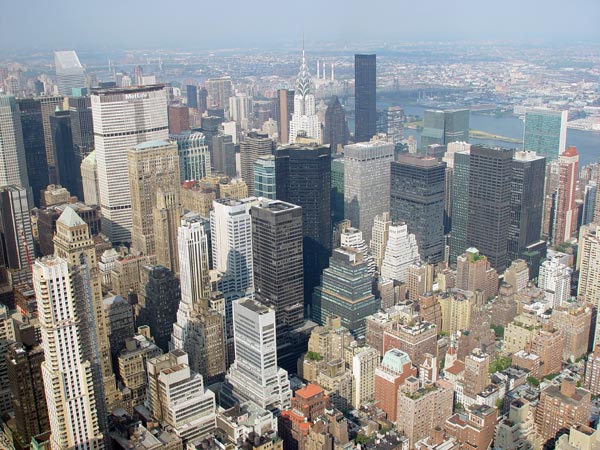 Raise your hand if you're spending all your hard earned money on insisting on living the dream and living in Manhattan, NYC. Yes all of you or at least some of you, but that's what you lot all deserve as you all join the rat race of making it in the world's must live or die city (and I do mean that shit literally as some of you can probably attest, blah!).
That said here's some information you probably need me pushing down your throats, courtesy of newly released studies by Miller Samuel Inc and broker Prudential Douglas Elliman Real Estate but living in Manhattan just keeps getting more expensive now that supposedly there are more jobs to be had (really where?) and all of you keep insisting on being in Manhattan to prove that you too can make it in NYC.
So how much does it cost to rent out a one bedroom apartment in NYC anyway these days? Well it'll set you back at least $3200 and if you're one of them fancy types who insists on a doorman (cause who can resist having doormen who hold the door for you when you return to your urban retreat as well as talking behind your back about how much of a slut, cheapo, freak, bixch, etc you sorry ass really is) that shit will on average cost you an extra $500.
But don't despair kids, cause them Manhattanites can afford all that shit as your average Manhattan weekly wages come to an eye popping $2600 plus a week. That though pales in comparison to all you saps who have the misfortune (and that includes my sorry ass) who live in the outer boroughs who earn under $900 a week. Not that I am complaining about living in the tony suburb of Ft Greene here in Brooklyn. Please all you Manhattan bixches don't even think of moving here (there are enough of you yuppies moving here already anyway).
The below might help you understand why I have chosen Brooklyn instead besides my firm belief there is far more charm and savor faire here since all you Manhattanites ruined it for us former Manhattanites.
sfgate: The report also included Brooklyn for the first time. The median rent in the borough, New York's most populous, was $2,350 in September, a 2.1 percent decline from a year earlier. The number of newly signed leases climbed 6.5 percent to 131.
But in case you're desperate to live in Manhattan there are still pockets waiting to be had for you, except you might have to tolerate living with all them colored and immigrant folk. I know that would be a shame, but really you'd probably change your mind when your ass picks up a ham and cheese hero for dinner (cause that's all your ass can afford after you pay those exorbitant rents) for $4. Then again something tells me you're probably not the hero for dinner type and probably have some clever scam in place where you simply eat nothing for dinner anyway or get your boyfriend or girlfriend to pay for that inconvenient shit for you.
Isn't it time you marry became rich so you can live in Manhattan too?
above image found here.
Just in case you insist on moving to Manhattan here is a guide for you courtesy of cityhabitats:
In the third quarter ranged from $1,995 for a studio to $2,638 for a one-bedroom, according to New York-based Citi Habitats, which also released a report on the rental market today.
Rents in the SoHo and Tribeca districts were among the city's highest in the third quarter, with studios leasing for a monthly average of $2,556, one-bedrooms for $3,648 and two- bedrooms for $6,395, according to Citi Habitats.