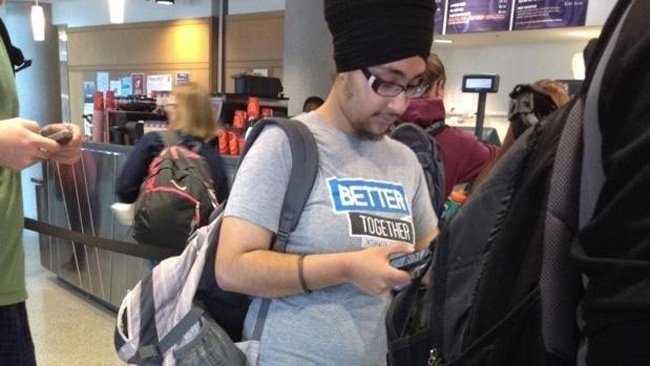 A reddit post poking fun at a Sikh woman (see photo above that was submitted to the site) has gone viral after the victim of an attempt to online bully turns the other cheek and responds with an inspiring and matter-of-fact reasoning as to why she looks the unconventional way that she does. The girl, Balpreet Kaur, a neuroscience student at Ohio State, whom many would say carries masculine features since according to religious purposes does not remove her facial hair, or any other hair on her body, sparked intrigue, and a chance to upload "something funny", within the reddit poster. The post read a simple, "i'm not sure what to conclude from this."
Balpreet's response outlined the Sikh religion, one that is constantly misinterpreted within the United States, and also highlights the vanity and ego that has swept our population.
Balpreet says, "I recognize that this body is just going to become ash in the end, so why fuss about it?"
Below find her full response, followed by an APOLOGY made by the user who posted the original photo of Balpreet.
"Hey, guys. This is Balpreet Kaur, the girl from the picture. I actually didn't know about this until one of my friends told on facebook. If the OP wanted a picture, they could have just asked and I could have smiled 🙂 However, I'm not embarrased or even humiliated by the attention [negative and positve] that this picture is getting because, it's who I am. Yes, I'm a baptized Sikh woman with facial hair. Yes, I realize that my gender is often confused and I look different than most women. However, baptized Sikhs believe in the sacredness of this body – it is a gift that has been given to us by the Divine Being [which is genderless, actually] and, must keep it intact as a submission to the divine will. Just as a child doesn't reject the gift of his/her parents, Sikhs do not reject the body that has been given to us. By crying 'mine, mine' and changing this body-tool, we are essentially living in ego and creating a seperateness between ourselves and the divinity within us. By transcending societal views of beauty, I believe that I can focus more on my actions. My attitude and thoughts and actions have more value in them than my body because I recognize that this body is just going to become ash in the end, so why fuss about it? When I die, no one is going to remember what I looked like, heck, my kids will forget my voice, and slowly, all physical memory will fade away. However, my impact and legacy will remain: and, by not focusing on the physical beauty, I have time to cultivate those inner virtues and hopefully, focus my life on creating change and progress for this world in any way I can. So, to me, my face isn't important but the smile and the happiness that lie behind the face are. 🙂 So, if anyone sees me at OSU, please come up and say hello. I appreciate all of the comments here, both positive and less positive because I've gotten a better understanding of myself and others from this. Also, the yoga pants are quite comfortable and the Better Together tshirt is actually from Interfaith Youth Core, an organization that focuses on storytelling and engagement between different faiths. 🙂 I hope this explains everything a bit more, and I apologize for causing such confusion and uttering anything that hurt anyone."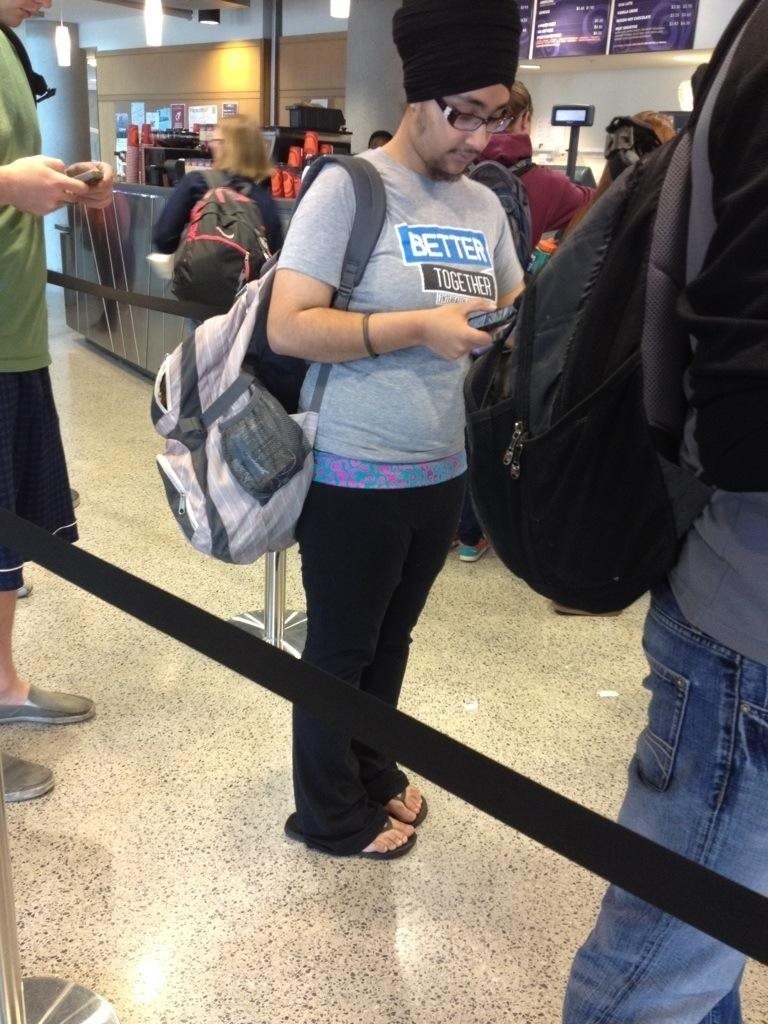 The uploader's apology:
I know that this post ISN'T a funny post but I felt the need to apologize to the Sikhs, Balpreet, and anyone else I offended when I posted that picture. Put simply it was stupid. Making fun of people is funny to some but incredibly degrading to the people you're making fun of. It was an incredibly rude, judgmental, and ignorant thing to post.
/r/Funny wasn't the proper place to post this. Maybe /r/racism or /r/douchebagsofreddit or /r/intolerance would have been more appropriate. Reddit shouldn't be about putting people down, but a group of people sending cool, interesting, or funny things. Reddit's been in the news alot lately about a lot of cool things we've done, like a freaking AMA by the president. I'm sorry for being the part of reddit that is intolerant and douchebaggy. This isn't 4chan, or 9gag, or some other stupid website where people post things like I did. It's fucking reddit. Where some pretty amazing stuff has happened.
I've read more about the Sikh faith and it was actually really interesting. It makes a whole lot of sense to work on having a legacy and not worrying about what you look like. I made that post for stupid internet points and I was ignorant.
So reddit I'm sorry for being an asshole and for giving you negative publicity.
Balpreet, I'm sorry for being a closed minded individual. You are a much better person than I am
Sikhs, I'm sorry for insulting your culture and way of life.
Balpreet's faith in what she believes is astounding.
The comments from readers keep flowing, offering support and wondering why the reaction to the recent anti-islamic film, The Innocence of Muslims, could not have been framed in a similarly elegant and effective way to change to views of closed minded individuals.
Then again perhaps the reddit community notorious for herd behavior and severe brow beating and even hosting a destination of underage young girls (of course without their permission) in suggestive voyeuristic repose might want to look closely as to what it is about their culture that allows intrusive and negative behavior under the veil of anonymity and perverse nerd macho behavior towards women to thrive in the first place….?
One may wonder if reddit on some level has a problem with women and not necessarily the inability to correctly classify the right submit categories as the individual who made the initial post suggested when they offered their apology….