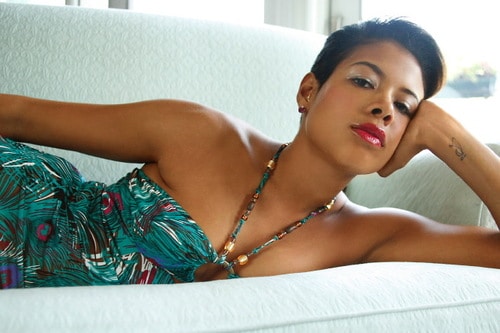 While she may be best known for her milkshake bringing all the boys to the yard, hip hop singer Kelis is preparing to release a new album with a different sound. Fans might recall that Kelis has previously dipped her toes into the electronic music scene. Her new single, "Distance" features that sound which grew, in part, from a new working partnership with Dubstep icon, Skream.
Kelis Explores 90's Trip Hop
The song, which premiered on Reprezent Radio in London, is the lead off tune from her upcoming sixth studio album. In talking to NME.com about the new record and the track with Skream, Kelis described the songs's "feel" while working on the album as "trip hoppish" with a "real 1990s vibe." One listen to the electro backed track, which features vocals reminiscent of the great 1990s R&B girl groups such as TLC and EnVogue, confirms this vibe. "Distance" gives fans a real throwback to the music of that time and proves to be quite a departure from "Milkshake." Now that the 90s seem to be back in style, "Distance" is the perfect opportunity to throw on some rave clothes from ravewear.com and get busy dancing to this hot little 90's inspired dance jam.
Producer, Skream Adds Early Dubstep Touch
As a member of the Dubstep group Magnetic Man, Skream released his first solo album back in 2006. His early work had more of a gritty, garage sound, while his current offerings are more melodic, as evident in "Distance". Skream had made a name for himself as a British Dubstep producer by leading the genre as one of the first on the scene. In fact, South London, which is where Skream hails from, is known as the birthplace of Dubstep because of Skream's contributions to the genre.
Often confused with trance or electronic music, Dubstep is a genre all on its own. Generally, vocals are sparse in Dubstep tracks with producers favoring heavy bass and slamming electronic drum beats. Early Dubstep had more of a funkier garage sound than the newer, more mainstream Dubstep tracks.
An Unexpected Collaboration
As Kelis was working on the new album (her first release since 2010's "Flash Tone"), she had no intentions of going with a Dubstep feel on any of the songs. The collaboration resulted from a colleague giving her a sample of his friend's work. After listening to Skream's track, Kelis ended up loving it and set about writing a song to go with it. That track became her new single, "Distance."
According to Billboard, Kelis has yet to announce a release date for her highly anticipated new album. However, she hints that the rest of the album will have the same electronic vibe and an overall darker feel than her previous release.
above image via hiphopwired