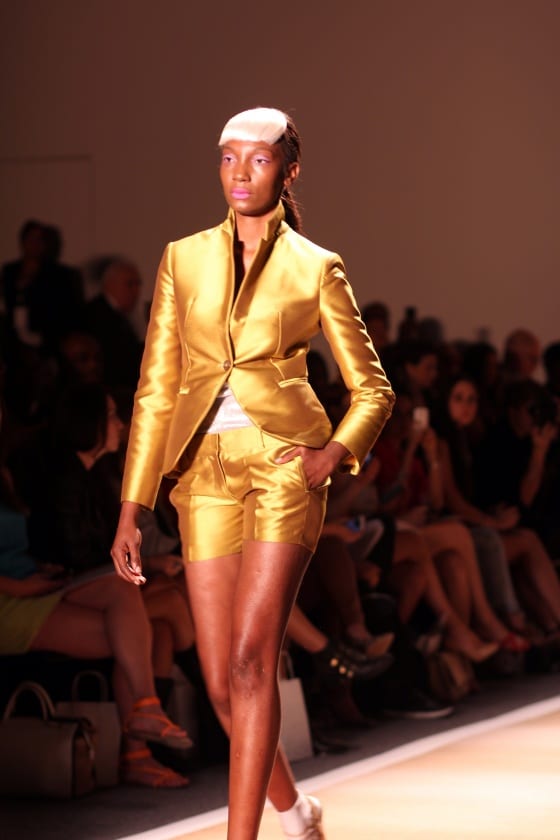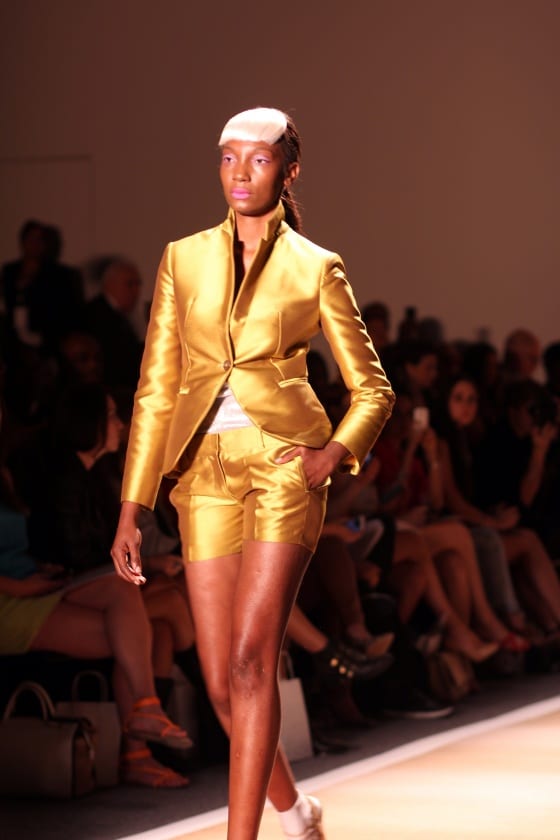 Citing his five sisters as inspiration, CZAR by Cesar Galindo was certainly a collection designed with a perspective on what women really want. From his background in costume design to his time spent designing for Gwen Stefani at L.A.M.B., Cesar certainly showed us what he has to offer at his Lincoln Center debut for Spring/Summer 2013.
Prints and colors galore adorned the runway in various silhouettes from structured cocktail dresses to loose, ethereal gowns. Everything was so fun and glamorous simultaneously. On-trend sequins in orange and blue caught my eye as well as sumptuous silk dresses. Each garment was cut to flatter different body types, worn by models of all ethnicities. Utilizing such a broad spectrum of display aspects could be brilliant or a complete mess, and for this collection I strongly side with the former.
Usually I would consider such a varied collection to be incohesive perhaps due to a lack of vision, but Cesar is quite the opposite. His passion for making each and every woman feel beautiful and sexy inspires me immensely and I admire his dedication to discovering what women really want and making it happen.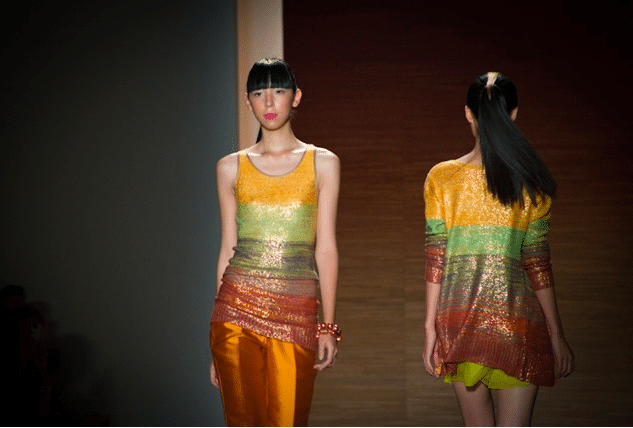 "If I can reach a broad demographic of women, that's really the marketplace," Cesar shared backstage, "We've been told as designers to think, who is our customer? The customer now has become so broad scale with dotcom business, it's everybody. For me, to be successful, I need to be able to design a collection that fits that scale. I have five sisters, so if I can get those different body types, different attitudes, different personalities- that's what I need to do as a collection. I will continue to do that season after season. The casting for the show was international- to me, that's a global marketplace."
When asked about the jewelry featured with the collection, Cesar's eyes lit up. "My friend Jane Hruska did the jewelry. My work is always about collaboration; I don't do this by myself. I'm an artist, I have lots of wonderful artists around me, I live in New York City. I'm really blessed to have that."
Combining talents and skills with others is so important in all industries, especially in design, which is notoriously competitive. It's obvious that Cesar's humanistic perspective on those around him and the women they collaboratively design for has taken him far, and will continue to do so.