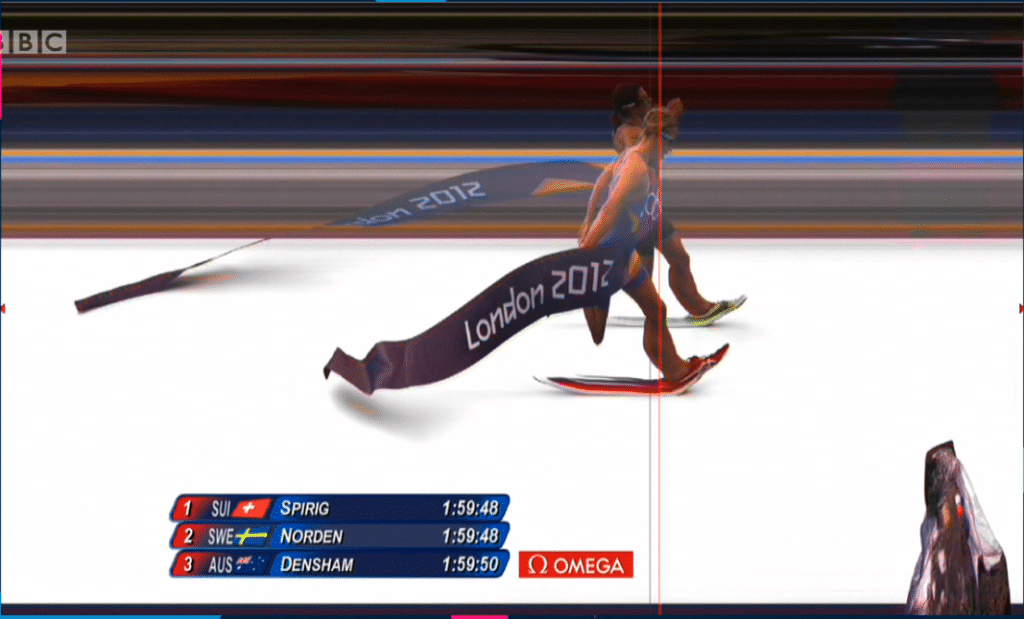 After a one mile swim, 26.7 mile bike ride and a 6 mile run in the Olympic Women's triathlon event it all came down to a photo finish split for the following three competitors who managed to score gold, silver and bronze:
Swiss ; Nicola Spirig 1.59:48
Sweden; Lisa Norden 1.59:48
Australia; Erin Densham 1.59:50
Fortunately for Spirig she was able to hold off a late charge courtesy of Sweden's Norden to take the gold in what many have argued was the best triathlon races ever. Spirig only managed to retain the gold only after thrusting out her hips and upper body as the pair past the tape together. All this in a race that consisted of three arduous legs.
"Crossing the finish line, I had a feeling that I had won, but I wasn't sure," Spirig said. "I needed an official to tell me and it took a few minutes."
Both Spirig and Norden celebrated – but only after they'd fallen to the ground in exhaustion, alongside bronze medalist Erin Densham of Australia.
So great was the turn out as the athletes ran around Hyde Park where spectators need not have Olympic tickets that Spirig's said her ears were still ringing after the race as a testament to how loud the screaming and the cheering from onlookers was who must have almost certainly propelled the athletes to go beyond their own psychological barrier as they were now carrying the crowd's hopes and aspirations.
"It was a great race — a hard and strong race as well," offered Densham. "The crowd was just incredible. It was deafening … but really good, and they surged us on."
Offered the overwhelmed Spirig:
"Athletically, as an athlete, this is the highest I can reach."
Could today's women's Olympic triathlon race not better embody the spirit and the intent of the games. A win for Spirig, but really a thundering win for humanity….