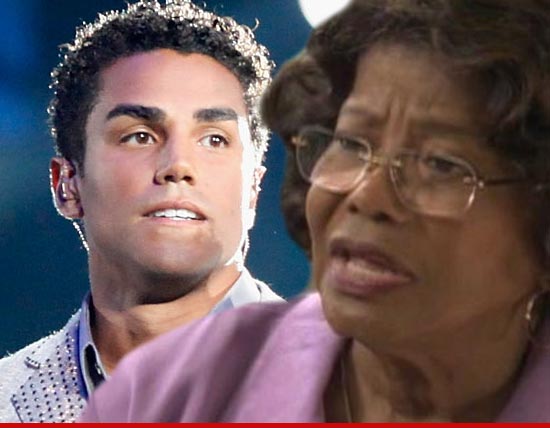 Katherine Jackson may now forfeit $70 000 a month in perks.
Paris Jackson forced to apologize to Janet Jackson for being a bitch. Goes back to twitter.
Randy Jackson goes on twitter and insists Michael Jackson's, his brother's will is fake.
Jackson family fued: Did Janet Jackson actually strike Paris Jackson?
Janet Jackson slaps niece Paris Jackson while TJ Jackson becomes new guardian; 'You spoiled little bixch!'
The plot keeps thickening….
It seems Paris Jackson in retrospect had every right to stink up some beef after Katherine Jackson, her grandmother and legal guardian suddenly went awol and just simply left Paris Jackson and her brothers, Prince and Blanket what was going on. In fact by the 9th day of no show grandma, Paris Jackson was out on twitter looking for blood.
"Yes, my grandmother is missing…I haven't spoken with her in a week. I want her home now." 
"something is really off" and has vowed to "make whoever did this pay."
The who did this may take a little exploring, but in the interim it seems Janet Jackson and her brothers, Randy and Jermaine are up to their eyeballs in the trickery department that left a sour taste in one little young girl's throat.
Dileanating concerns that something was off, even Superior Court Judge Mitchell Beckloff who yesterday granted temporary custody of Michael Jackson's children to TJ Jackson had this to say:
"there is no evidence that Katherine Jackson has done anything wrong but instead it appeared she has being prevented from fulfilling her role as guardian through the "intentional acts of third parties."
Being prevented from doing her duties? What third parties? And who would want to prevent Katherine from doing her duties?
It may well have much to do with a plot by overthrow the executors of Michael Jackson's will, John Branca and John McClain, as evidenced by a letter signed by Jermaine, Janet, Rebbie and Randy Jackson contesting the legitimacy of the will. Tito Jackson who also signed the letter has since denounced his involvement and has sided with the children whilst LaToya Jackson interestingly has remained neutral.
For their part Janet, Randy and Jermaine Jackson has denied any wrong doing and insist that they had simply taken grandma to Arizona so she could catch up on some sleep, get her blood pressure down and not have to find herself being bothered by some zany shit called a $500 million pink elephant in the living room.
Offered Randy on the Al Shartpton show PoliticsNation:
" I believe John Branca and John McClain ( the executors of Michael Jackson's estate), are using the children to try and put pressure on my mother to try and come out and get her to say things in their favor, to kind of clean up their image."
So maybe Randy had to have grandma taken out of the picture for a few days so she couldn't be used as a political pawn which of course her blessed ass was every step out of the way.
Then there's this theory:
tmz: Short story … Randy, Jermaine, Janet and Rebbie set out to turn Katherine against the estate so she could get more money during her lifetime — money she could dole out to them — but the plot may have actually screwed Katherine.
The more money TMZ is talking about is the fee guardians get from the executors for being the children's guardian, all $70 000 of it a month which grandma Katherine may have inadvertently forfeited courtesy of her knuckle headed children.
For her part Katherine Jackson has offered the following:
"the court ruling was based on a bunch of lies."
"I am devastated that while I've been away, that my children, my grandchildren, have been taken away from me, and I'm coming home to see about that, also," 
What grandma will come home to see to what exactly remains a mystery.
Nevertheless this is Hollywood and like most family this one for the time being has a happy ending with the news that grandmother Katherine has finally returned to her beloved sweet Paris Jackson and her brothers and that shit was fine and that she still wanted to be the children's legal guardian. Until that is she's kidnapped once again sometime next week….