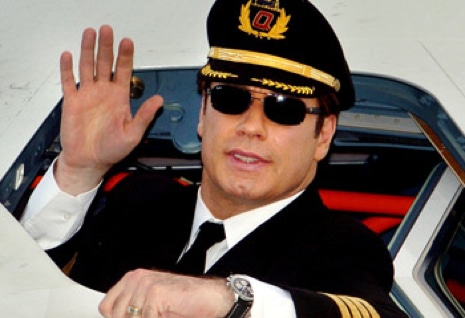 John Travolta will soon be wincing every time he looks at a massage table.
Kids looks like life has gone from miserable to catatonic for our collective hawt bixch John Travolta after his former lover (so he claims) Doug Gotterba has publicly toyed with the idea of writing a book about their dalliance.
Gotterba a former pilot for Travolta will interestingly be supported by National Enquirer in getting his story out there (isn't that so generous of the National Enquirer?) by providing not one but two writers to help Gotterba 'ghost' write the story. For his part Travolta who has being keeping a brave face in public continues to dismiss any notion that he had an affair with Gotterba. Either way John Travolta can expect to stay in the limelight for some time to come, exactly just the way we like it.
One can surmise it's only a matter of time before skeletons come rolling out of the closet for our hero, although one suspects he'll just shrug it off as he heads off to the tanning parlor. Hawt bixch.
Busted! John Travolta implicated in 6 year gay affair with pilot.
Welcome to the John Travolta National Enquirer cross dressing scandal.
OMG! Second male masseur now comes forward against John Travolta.
John Travolta threatens to counter sue masseur who claims Travolta tried to have gay sex with him.
QANTAS Airline staff said to be repulsed by new John Travolta in house video.
John Travolta gets caught without his hairpiece.
The secret gay life of John Travolta will soon be on your bookshelf.