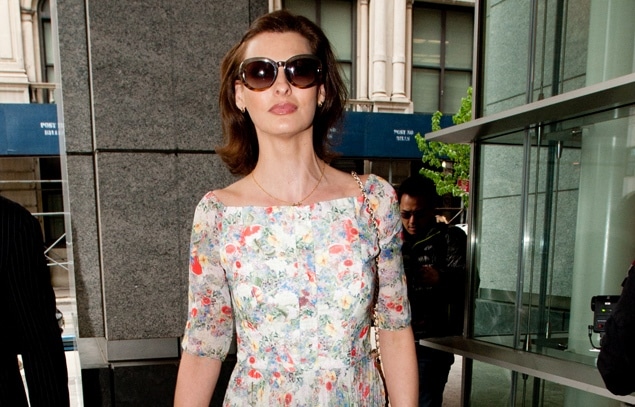 Linda Evangelista will now have to dream of ways to get her hands on that $46 000 her ex stiffed her on.
Kids there is a reason why I never make an effort to get back together with my exe's. It's cause they hate me for a reason. This in a nutshell may explain  the bitter back and fro that we the public have been privy to as in one corner we had the trophy gold digger super model, Linda Evangelista and in the other the trophy grabbing gold minting super human species, Francois-Henri Pinault that collects girls like Linda the way you collect fleas whilst sitting in the park.
Nevertheless after threatening to expose how much he wanted to get rid of the child and understanding that her demand for $46 000 a monthl stipend for their love child was going to be a tall order the two were able to hash a settlement. But how much did they settle for anyway?
nydailynews: Neither side would divulge any of the details or dollar figures in the agreement, which will be presented to the court as a courtesy on Tuesday and doesn't require a judge's okay.
But a source familiar with the negotiations said while Pinault agreed to pay a generous child support payment so his son can continue living large, it's "nowhere near $46,000 a month."
That amount would have shattered the state record for child support currently held by Sean (P. Diddy) Combs, who pays $19,000 a month for his son, Justin.
State record? Who cares about state records when you spend a couple of hundred dollars running down the deli to get a croissant and the morning newspaper? $46K would have been chump change for Henri and Linda knows it.
Pinault, who presides over a fashion empire that includes Gucci, Yves Saint Laurent and Bottega Veneta, is heir to an $11.5 billion family estate, and is married to voluptuous Hollywood star Salma Hayek.
Evangelista, who is said to be worth $8 million herself, was demanding armed bodyguards and around-the-clock nannies for their 5-year-old son Augustin.
Evangelista also wanted a pad on par with the $12 million California mansion Pinault put in a trust for little Valentina, his 4-year-old daughter by Hayek.
It wasn't clear if Evangelista squeezed either out of Pinault.
Augie is the fruit of a four-month affair Pinault had with Evangelista before he married Hayek.
The unexpected detente between Pinault and Evangelista came after two days of testimony that bruised both their reputations.
Kids tell me your not drooling on the floor boards wishing you weren't a supermodel who could corner guys like Henri to have your love child with? Personally if I could sew a pouch behind my earlobe I would be willing to carry back to back babies for Henri until kingdom come. Of course I'd be modest and make the bixch pay me a scant $15K every month. Not enough to spoil me of course but enough to ensure me and my cherubs get their fair share of nannies and body guards and the occasional exotic siesta overseas.
If only you were as rich and beautiful as Henri and Linda you too could publicly boast how happy you really are too….