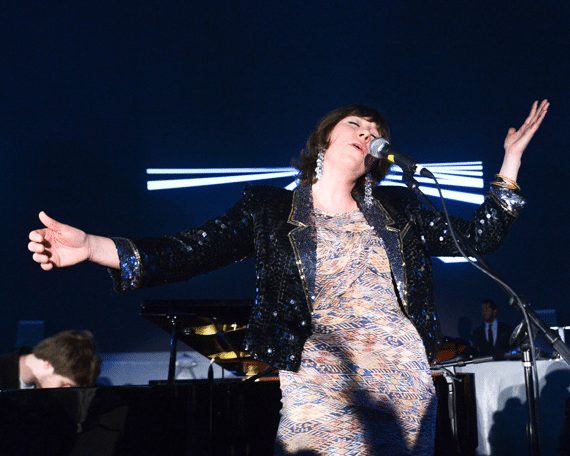 Wednesday night saw an interesting menage of art collectors, artists, patrons and general bobo's  (bohemian bourgeous) flocking to Long Island City's PS1 in anticipation of the kick of to Frieze NY.
Playing, or should I say attempting to play amongst a throbbing clan of enthusiasts was Martha Wainwright who at various points during the show was at her wits end in trying to get the bobo's to shut up and take in her performance. Then again bobo's always know better than starlets. Of course it was amusing to watch some French geezer with a fedora hat (yes why decline…?) attempting to be a hero as he begged in vain for the audience to pipe down. To no avail. Fortunately Klaus Biesenbach managed for half a moment to get the Eurotrash to shut up.
Nevertheless Martha did manage to belt a few good songs as infamous paparazzo Steve Sands hung over her (almost literally)  like a saw lemon snapping away at his next payola. As I have reiterated New Yorkers just don't give a damn.
Not to be outdone herself was Yuka Honda on electronic accompanying dj who later told me she used to be a food writer before transitioning to djing. Quite good actually. But of course she's her own legend too.
Also quite good was hawt bixch Mark Ronson who got the crowd dancing away as he zipped into some heady electro music under the makeshift dome. From there it was a mad dash to the bar for the Bombay Sapphire Gin that was quickly going being mined by the bobo's who were adamant about getting their monies worth. After all them bixches had travelled to Manhattan to get there that evening….
Invited guests included the following: Klaus Biesenbach, Pharrell Williams, Kim Cattrall, Martha Wainwright, Adam Kimmel, Leelee Sobieski, Stacy Engman, Elizabeth Gilpin, Robert Miller, David Foox, Dianna Cohen, Maria Cecilia Compos, Natascha Theis, and Nadine Siege.