Being the perfect mom these days is becoming increasingly difficult. It used to be that the "super moms"  of the world would look at you like you were crazy for not breastfeeding your child, or for choosing to be a career woman instead of a stay at home mom, but now the duties of motherhood have propelled to a whole different level.
Celebrities like Clueless star Alicia Silverstone, and Mad Men vixen January Jones, have recently had their odd mothering techniques plastered all over the internet.
For starters, January Jones attributes her quick recovery, and ability to jump back on set only six weeks after bringing her son Zander Dane into the world, to consuming the placenta released at birth.
Jones told People, "I have a great doula who makes sure I'm eating well, with vitamins and teas, and with placenta capsulation," and 'It's not witchcrafty or anything! I suggest it to all moms!'
So apparently you can have the placenta ground up and made into pill form. Doing so supposedly gives you all sorts of nutrients and helps curb postpartum depression. This doesn't sound so bad because now I do not have to visualize myself actually chewing on a nasty placenta, but instead just swallowing it as a pill. To help matters I'll just visualize sucking on jellybean, a fuzzy jellybean no doubt.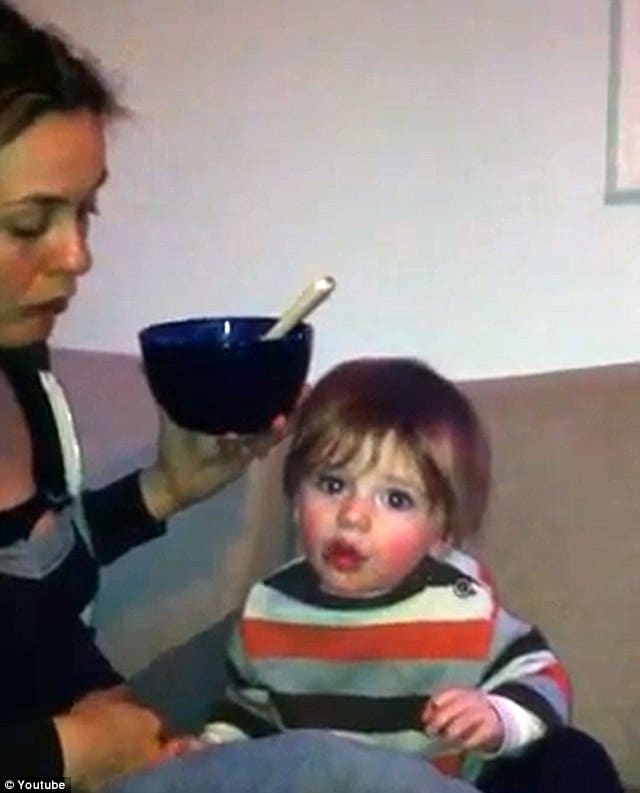 Now on to Alicia Silverstone.
Silverstone took to her blog thekindlife to show us all via video how she mouth-to-mouth feeds her son Bear Blu.
She writes: I just had a delicious breakfast of miso soup, collards and radish steamed and drizzled with flax oil, cast iron mochi with nori wrapped outside, and some grated daikon. Yum! I fed Bear the mochi and a tiny bit of veggies from the soup…from my mouth to his. It's his favorite…and mine. He literally crawls across the room to attack my mouth if I'm eating. This video was taken about a month or 2 ago when he was a bit wobbly. Now he is grabbing my mouth to get the food!
Courtesy of the video we see the celebrity mom chew up the food and then bend down until her mouth is on her son's. She then puts the softened food in his mouth to eat. Apparently Bear loves this, but does he know any different?
I was becoming OK with the placenta consumption, mainly because swallowing a pill doesn't seem all that disgusting, but chewing up food and spitting it into a child's mouth is a whole different ball game. For some reason it makes my skin crawl, but then again, I'm not a mother.
This brings me back to my days of being an Upper East Side nanny. Don't get me wrong, I never witnessed this type of bizarre behavior, but I can only wonder if these habits will soon catch on as trendy mom fads. If they do, I'm sure thankful that mouth-to-mouth feeding and placenta pills are something I was able to side step. I've got a weak stomach and witnessing all that probably wouldn't have done me any good.