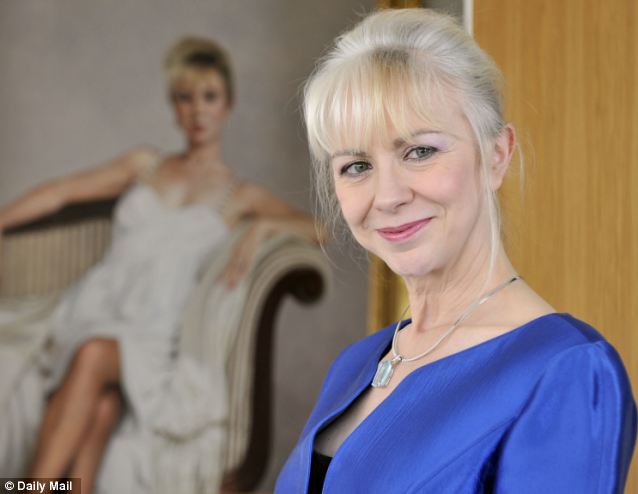 She has a reputation of pursuing some of the most powerful men on the continent and of course ruining them, but that hardly matters in Lady Bienvenida Buck's eyes as she now sets out to become her very own power figure…
'I don't need companionship — I have a dog for that.'
The above is the latest offering courtesy of the dailymail who this weekend have done a very interesting profile of a very interesting woman, Lady Bienvenida Buck who has a history of being a media sensation as well as a hot to trot fox always on the lookout for high caliber men.
With a string of marriages, some of them which began as adulterous affairs, including that of the beleaguered relationship with Sir Peter Harding whilst married to Sir Anthony Buck, a former Tory politician the ever glamorous London fixture and socialite is now hungry to get back in the public's consciousness but this time as a politician.
dailymail.co.uk: It is hard to imagine a more unlikely candidate for Mayor of Liverpool, but Bienvenida tells me she is seriously considering throwing her designer hat into the ring.
This May, Liverpool is set to become one of the first cities outside London to ask voters to directly elect a Mayor, and Bienvenida likes the idea of becoming the North's equivalent of London's Boris Johnson — another blonde with an interesting private life.
Though born in Spain and a resident in Liverpool for just three years, Bienvenida firmly believes she could provide the 'strong and accountable leadership' required. 
'I think that I could win. I am the voice of the young people of this city. I know a lot of influential people who could bring investment to Liverpool, I have very good connections,' she says knowingly, before taking a delicate sip of her champagne.
Indeed. Excuse us while we too take a delicate sip of our moonshine and wonder out aloud for a moment what has inspired this socialite fixture to attempt to take on the role of Mayor of one the biggest cities in the UK- Liverpool. Could it be that the woman acclimated to marrying into money and power is now ready to exercise her own power? Could it be that she has a real compassion and understanding of the Liverpool locals (she does admit she hardly knows anyone in Liverpool but has now taken to start traveling by bus to show her commonality with the voters) or could it be that this femme fatale is just hungry for attention and is willing to bet that charismatic and the spoils of a charmed life might just be enough to sustain the best interests of the city of Liverpool?
Reflects Lady Buck:
'I have travelled on Concorde hundreds of times and stayed in palaces. I have lived in Dallas, Texas and Dubai. I have met princes and have contacts with very powerful entities and governments.'
Well can one imagine the sacrifices Lady Buck has made from riding in Concordes to the pubic bus? And Liverpool for all of its history hardly measures up to the social uppity status of London or Dubai or even Dallas, Texas. But maybe Lady Buck at the age of 55 is ready for a change?
Then there's Lady Buck's latest admission about her private life:
'I have two lovers,' she says. 'They are both bankers — one on Wall Street in New York and the other in London. One is married and the other is not. 
'They know about each other and do not mind sharing me. They have been in my life for more than 20 years. They are very influential. They are my dear friends.'
Surely the people of Liverpool will come to understand the very modern ways of Lady Buck and embrace them as their own?
But Lady Buck wants to clarify things for us:
'My marriages have always been about men wanting to control me,' she says now. 'I cannot breathe when someone is pulling my strings. But I do not like to dwell on the past — my strategy is always to move forwards.
'I may be 55, but I don't feel invisible to men. On the contrary. Thank goodness I haven't lost my beauty and I look much younger than my years.
Isn't it beguiling that Lady Buck can manage to elicit our support not because she has some wonderful ideas for Liverpool itself but because she can state with gusto and confidence her dating prowess. The people of Liverpool must be gushing as they read about Lady Buck's adventures.
But if you felt the oncoming of a slight tinge of embarrassment coming to your cheeks, there's more:
'I am chatted up all the time. I'm always having to tell men "Please, I am not interested" because I only like men who can challenge my intellect, men of power who I can look up to. I am not interested in young men. Not now, and not then. 
'I make love to a man's brains, not his body. Being with me is a privilege people have to earn. Sex is only a tiny part of seduction. Wealthy, powerful men look upon women like myself as an investment. 
'I am really enjoying being a single woman. I never feel lonely. I am the most independent woman I know. I enjoy climbing into my bed with its crisp white linen sheets and my dog, who does not snore.'
Well white linen sheets are always a welcome addition to any wanton spirit, something that the people of Liverpool must be vigorously shaking their heads with joy. After all, nothing beats a wealthy independent woman who can seduce and be seduced when she is up for it.
And finally this:
'I like who I am,' she says. 'I can sleep with my conscience and integrity. I do not regret what I had to do to survive. I am proud of the woman that I am today.'
Yes, Lady Buck may be able after all these years may be able to sleep with herself, but will the city of Liverpool be able to sleep with Lady Buck as she splays out her very white linen sheets…?