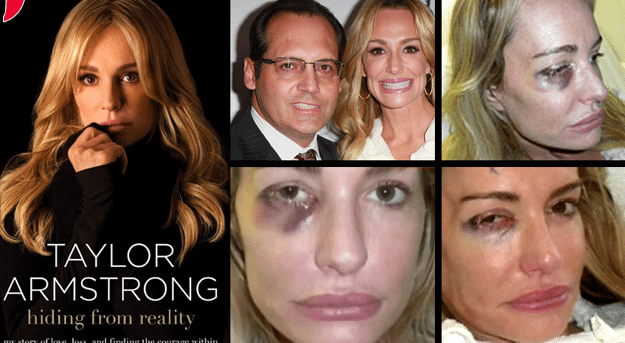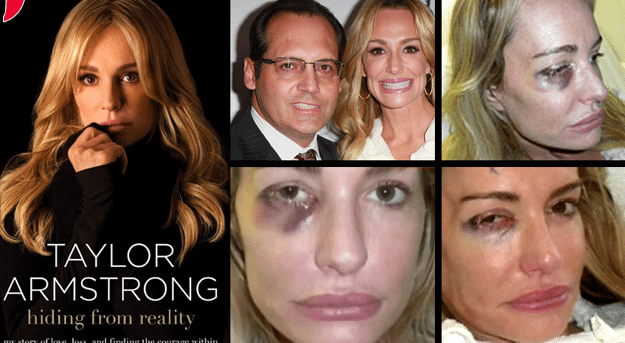 Where certain things used to stay very private, they now (almost as a matter of coming of fact these days) must now all become very public. One after all can not expect to heal from what beckons them unless they have shared a communal catharsis. Welcome then the ongoing communal catharsis of The Real Housewives of Beverly Hill's Taylor Armstrong as the tell all release of her new book on her very violent marriage to her ex husband hits book stands.
dailymail.co.uk: The end of her marriage has been played out in very public fashion on reality show The Real Housewives of Beverly Hills.
And now, Taylor Armstrong is revealing more details in a new memoir and in this week's Us Magazine about her troubled relationship with late husband Russell who committed suicide last year.
More details? What weren't we spared on the show? The gestation period before the bruises finally went down? The height of the high heels that her ex would wedge against her face? The ugly thoughts she would utter over and over to herself as to why she married this man?
Then again Taylor Armstrong is only reiterating the dilemma so many domestically abused women go through, albeit in a more telegenic and visceral way.
In a new tell-all memoir Hiding From Reality, she describes several shocking incidents of abuse, including occasions where Russell punched her in the eye, smashed her head against a car window and called her a 'whore' in front of their young daughter.
'Russell stormed in and started screaming "F*** you. Get the f*** out of my life,"' the 40-year-old recalls of the incident.  
He then told their five-year-old daughter Kennedy: 'Your mom's a whore, your mom's a b****.'
As I shall reiterate once again. A very visceral remembering of key events…
Taylor also details an occasion where Russell's violent behaviour landed her in hospital after he suspected her of sleeping with a Chippendales dancer during Lisa Vanderpump's daughter's bachelorette party in Las Vegas.
Tests on her bruised and black eye – the result of Russell's punch – revealed that 40 per cent of the bone which supports the eye had been fractured and that Taylor would need reconstructive surgery which involved titanium implants.
Kids, do you get the impression these two weren't meant for each other? Then again I also get the impression that Russell wasn't meant for himself either. Hence the suicide part…
The dailymail then goes on to regale stories of how Russell would tape her secretly, go through her email and how much he wished for a baby girl. What the dailymail doesn't do is explain why this woman agreed to go on such a high profile show, especially in lieu of all the personal trauma in her life? Is that something you really want to share with the rest of the world? Certainly the producers were gung ho, after all nothing captures attention more than drama (ad sponsors can tell you that) but then again Taylor who once again comes out in public about her woes is either a glutton for public self revelation or simply she can't stand herself enough to not have to share herself with the rest of the world 24-7. Something that her ex had a hard time coming to terms with…