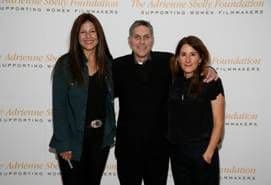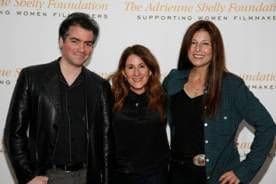 Proving stronger than most who experience the tragic event of losing a loved one all too soon, Andrew Ostroy transformed the pain from losing his wife Adrienne Shelly into something beautiful. He created the Adrienne Shelly foundation, which honors Adrienne's incredible accomplishments as an actress, director and filmmaker while helping other women who aspire to be as successful in the same industry.
Adrienne's accomplishments ranged from her accomplishments in the independent film The Unbelievable Truth in 1989, to writing, directing, and costarring with Kerry Russell and Cheryl Hines in the 2007 film Waitress. Waitress won five awards including the 2007 Sarasota Film Festival's Jury prize for narrative feature, and nominated for three others, such as Sundance Festival's 2007 Humanitas Prize.
Honoring Adrienne on the 5th anniversary of her death, the Adrienne Shelly Foundation hosted the first annual Women of Vision Salute at the Museum of Modern Art. A wide range of supporters turned out for the event to pay respect to Adrienne's memory, while celebrating the 25 winners who have each received $5,000 grants from the foundation since its beginning in 2007. Recipients include Cynthia Wade, who says she would not have been able to move forward with her Oscar-winning documentary, Freeheld, if it hadn't been for the support of the Adrienne Shelly Foundation. The film earned 15 other awards, such as the Special Jury Prize in short filmmaking from Sundance in 2007, and the Audience Award from the Spokane GLBT Film Festival.
Andrew Ostroy spoke with such gleeful passion when informing me of all the work done by the Adrienne Shelly foundation, which goes far beyond simply giving grants. Awards are given through various places, such as Columbia University, NYU's Tischman School of the Arts, and the Tribeca Film Festival to women actors, filmmakers, writers, producers and directors. They also receive a mentor from the board of the foundation. Mentors are people in the industry, such as actor/producer Paul Rudd, writer/producer Diablo Cody, actor/director/producer Rosanna Arquette and producer Peter Newman to name a few of the many. Mentors guiding the talented and skilled women in the right direction was of obvious importance to Andrew- that the foundation is not only a means of financial support, but a physical, hands-on presence in a woman's life, helping her to succeed in every way possible.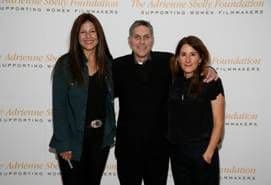 Presently the foundation is holding an eBay auction to raise funds. 62 items such as exclusive lunches with people in the film industry and VIP tickets to shows with Meet and Greets are auctioning until November 11th. Prices range from $2,500 for an "In Your Eyes" Film Walk-On Role – Written by Joss Whedon and Adrienne Shelly (25 bids so far!) to $250 for VIP tickets to Chelsea Lately plus an autographed book (1 bid). The MWW group is doing PR for the sale-as well as for the event- pro bono. Senior Vice President Joseph Cohen spoke to me about his involvement and why he thinks it is important to represent the foundation. "This is such an powerful story that needs to be told," he said, "The foundation is giving a voice to aspiring filmmakers, which inspires us to give a voice to the foundation." MWW does a mix of social media promotion such as blogs and forums, to traditional integrated marketing in print and radio to raise awareness and funds for the foundation.
The event also included a screening of Nicole Holofcener's 2001 Lovely and Amazing, starring Catherine Keener, Emily Mortimer and Jake Gyllenhaal. The film aims to represent women in a realistic light- the beauty in the female condition of body-image insecurities and their shifting role in society. Which in itself was an interesting choice in light of the fact that the evening was organized to empower women.
A beautifully made film from the writing to the acting, as a woman pursuing an artistic career I found certain elements of the film challenging. The matriarch and mother to the other three main characters played by Brenda Blethyn gets liposuction to remove ten pounds of fat, which results in a near-fatal infection, all the while attempting to flirt with her married doctor. Emily Mortimer's character, a struggling actress, is dumped by her boyfriend after she angrily accuses him of hating her arm fat (she has none!) then asks a man she barely knows to point out all of her flaws while standing nude before him- as though fishing for his approval. Catherine Keener's middle aged character is unsuccessful at selling her art and ends up at a job in a one-hour photo lab, where she meets Jake Gyllenhaal's character, a 17 year old she becomes involved with only to be arrested for statutory rape when his mother calls the police. The silver lining is the family- the women are very close and support each other, a sorority of sorts, presenting them as kind, loving people we can relate to, taking the edge off of their excessive insecurities- giving overall warmth to the film.
The Adrienne Shelly Foundation's first annual Women of Vision Salute was a huge success. Awareness and funds were raised and Adrienne's life was honored in such a beautiful way. I believe everyone left inspired and full of the giving spirit, which in itself is incredible.