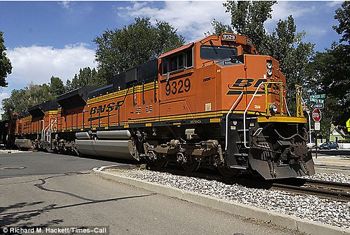 All she wanted was an adrenalin rush but now she has to contend with the fact that both her legs are chopped off from the knee down…
Part of being a teenager is daring oneself to try feats of absurdity if not for the memories then at least for the adrenalin rush. Or in the case of one yet to be identified student could it have been a case of peer pressure?
A 17 year old teenager is in critical condition after an excursion of train hopping with 3 other males went horribly wrong after she slipped attempting to jump on a moving northbound Burlington Northern Santa Fe train.
When authorities arrived they not only found the girl profusely bleeding but also one of her cohorts who had been dragged by the train. Fortunately for him he only suffered minor injuries. A third person part of the ensemble had waited for the police to arrive whilst a fourth was said to be missing.
At the time of the incident, circa 1.35pm, the train was moving at a speed of 18mph an hour. Two of the parties involved were issued with trespassing tickets.
One is compelled to wonder why these individuals tempted fate? Is it youth's assiduous belief in their mortality, a desire to reaffirm oneself even if it means certain injury (which could be where the thrill lies?) or a fact that in certain quarters such acts of foolishness bravery raises the social cache that young individuals seek in a world telling you that cache is what separates the extraordinary from the ordinary?
So much for idealized youthful zeal you may wonder…