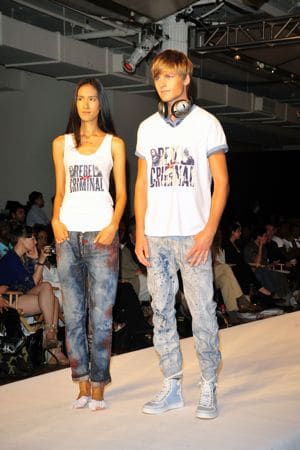 Who can forget the must have jeans from the 90's?
If you didn't have a pair of these you couldn't walk down the halls of your elementary school feeling cool…
None other than Marithé + François Girbaud!
These colorful jeans were a signature of my generation and the first brand name designer jeans I can think of.
Marithé and François are now back with a bang doing his similar cuts with acid washes and cuffed up looks at the ankles.  The show was fun, flirty and young.  The models were all barefoot with white painted ankles.  The guys and girls chosen were edgy and diverse with sex appeal.
Rolled up sleeves and t-shits with holes cut out made the jeans of yesterday become a cool throwback to be a must-have again today!
The first male model who came out was holding a globe of the world and smiling his head off…he looked like a basketball player.
The show ended with two cute little girls wearing banners reading, "Thank you!"
Their show had both male and female jean looks with an occasional chained belt and all hair seemed styled down naturally.
Back in the day this jean successfully branded itself and I won't be surprised if the designers François and Marithé pull it off again to the young generation of today.
No one can forget the signature logo over the zipper all your schoolmates would check to see if you actually had a pair of the one and only…Girbauds!