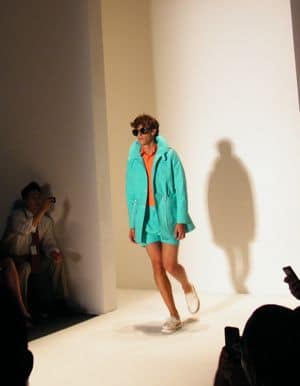 The show opens with a black and white vintage video reel. Waves crash on the screen and with graffiti writing etched into sand, the General Idea Spring/Summer 2012 collection is announced.
Thin male models, mostly tall and blonde, stomp the runway. Their cool demeanor, the bright colors and the easy wear-ability of the collection is reminiscent of the attitude in St. Tropez in the summer months. In fact, this is where the designer draws his inspiration. The models are an embodiment of "Les Garcons de la Plage"—the boys of the beach—a fashionable bunch that spends their days lounging in the sun to basking in the moonlight. With General Idea, les garcons are guaranteed to look stellar both day and night with the innovative, transitional pieces.
Nautical stripes and checkered patterns are mixed with pops of blues, greens and oranges. The blues and greens reflect the allure and charm of the ocean while providing the line with a manly sophistication. Orange dabbers though the line, reflecting the brightness in the hot St. Tropez sun. The careful cut, fitted tailoring and trendy patchwork advance the legacy General Idea is setting in menswear.