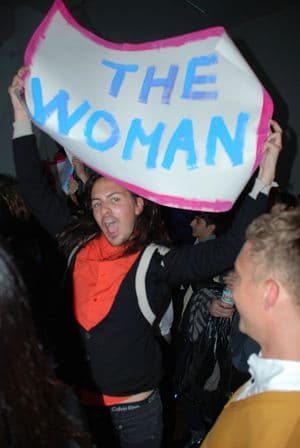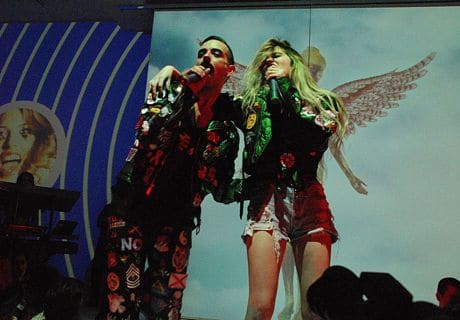 SSION. Let's say it together "SHUN." Isn't that fun? This band is so gay!  This weekend, frontman Cody Critcheloe and his menagerie of fabulous, talented punk freaks graced the stage at Moma Ps1. Saturday night's show, (featuring songs from the new album BENT) was equal parts performance art, theatrics, punkrock, glamour, sexuality and visual delight. The scene was set with a blank canvas of a stage as gorgeous projections of time lapsed growing sprouts overtook the background and a series of compelling images composed a collective collage of foliage, flowers, divinity, and irreverence.
The band was reminiscent of American Bandstand on acid with variations on grass green blazers, yellow pants, and orange wigs. Then entered Critcheloe through parting partitions in full-on rock crooner costume and dreamboat character to match. Thick eyeliner, faux mole and rouge channeled iconic beauty while the slicked back hair and suit evoked the style of Elvis or Buddy Holly.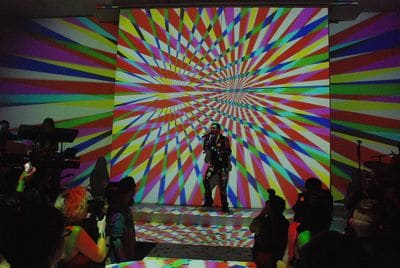 The concert showcased individuals such as a hunky handlebar mustache-speedo-wearing cowboy, a fierce power suited femnazi, abarely-legal blonde tarte, hot homo go-go dancers, goth drag queens and a pudgy ditto-esque vamp. These special guests are none other than Actually Huizenga, Casey Spooner (of Fischerspooner), Jaimie Warren, Alexis Penny, Colin Self, Mykki, Nicole Blanco, and Sky Ferreria. When Critcheloe entered stage center donning leather pants and jacket adorned with patches, he went into a crowd-shaking rendition of "Where Eagles Dare." Nice nod to the Misfits. The audience was so enraptured with the performance, that even the free beer being served could not lure them from the performance that had enslaved both their ears and eyes.
Hailing from America's Heartland (good old K.C.M.O.), SSION is an amalgamation of ambition, aptitude, and attitude.  Mostly funded by grants, though signed in 2008 by Sleazetone Records, this marks a movement in free expression and curious creativity. This show was an experience… like getting fisted in a Grecian bathhouse by a swarthy fishmonger. Hawt.
Photos continue onto page 3.