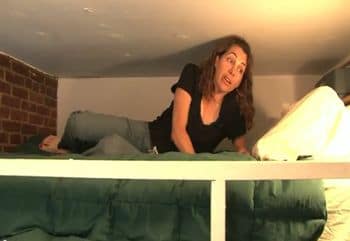 Are you keeping your dirty laundry in the oven?
Close your eyes and picture this: waking up in the dead of the evening and stepping 4 feet across to use the toilet, forced to pee sideways and then turning back to your bunker bed which exists in a combined space of 12 feet by 7. Confused? Don't be, this is Felice Cohen's wet dream come true and she can't really betray the joy  beaming out of her cramped gills when she tells you she's got an apartment  to die for in Manhattan.
faircompanies: By choosing a studio that measures just 12 feet by 7 feet, Felice Cohen can afford to live in Manhattan's Upper West Side where apartments rent for an average of $3,600 per month. She pays just over $700 for her 90-square-foot microstudio.
Interesting, this author lives in a 1200 square foot loft with another artist where the floor to ceiling is 16 feet in downtown Brooklyn for a combined $1500. The worst part we have to get on a step ladder to take a leak.