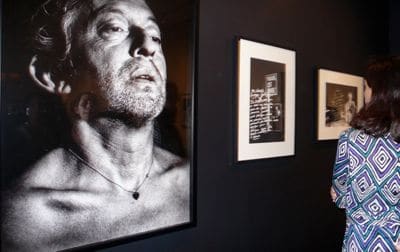 Neither snow nor sleet kept several hundred guests from attending the opening of "Serge Gainsbourg:Initials L.G." at the French Institute: Alliance Francaise. Gainsboug, the most prominent & provocative French songwriter of the 60's and 70's was as famous for his decadent life and cynical wit as for the songs he sang.( Unfortunately, his beloved wife, Jane Birkin was not in attendance).
The exhibit, a compilation of striking, rare images shot by the likes of Helmut Newton and William Klein, focuses on Gainsbourg's relatively short, but tumultuous life (he died at 63). I met Roger Szmulewicz, the  brilliant art dealer and curator who spent years assembling this remarkable collection that has traveled from his Belgium Fifty One Fine Art Gallery, via Sothebys in Paris, before landing in NY. Interestingly enough, the initials in the title refer to Gainsbourg's original name-Lucien Ginsburg(changed when he joined France's songwriters' society in 1954).
Guests in attendance also  included curator Charlie Schieps, striking model Cristina Kruse, Chelsea art dealer Julie Saul and other photo aficionados who later migrated to the art-filled apartment of Michele Gerber Klein to enjoy good champagne and witty conversation.