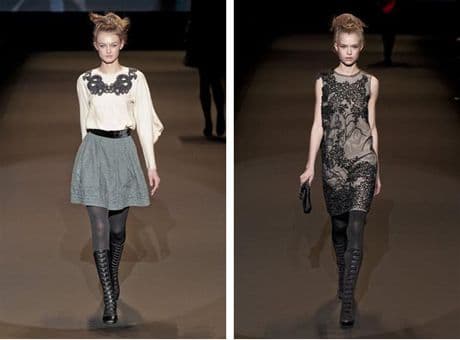 Vivienne Tam may be an expert at producing modern, stylish clothes for the U.S. market, but she never forgets her Hong Kong roots. Some years the influence is subtle – an pop of red in an unexpected place, a flared sleeve on an otherwise by-the-book top – but other years the references are overt. It only takes a quick look at Tam's Fall/Winter 2011 Fashion Week collection to know which way she went this time.
Yes, the Chinese influence was omnipresent this year. Jackets were structured to be reminiscent of pagodas, the traditional tiered buildings found across East Asia that are often used as Taoist or Buddhist houses of worship.  It was no surprise to see the color red used in many elements of the collection, as red is a special color in Chinese culture – brides even wear it on their wedding day.  One dress had the flared sleeves that you typically find on a kimono. Yes, the kimono is traditional Japanese attire, not Chinese, but the kimono is actually influence by Chinese hanfu, or the historical clothing of the Han people.
Most stunning of all were her silk gowns embellished with dragons and other East Asian designs. The image of the dragon has been popping up more and more in posh accessories lately, so this collection may be what tips the fierce mythological creature into a full blown fashion trend. It's about time, too – could there be a better mascot for the New York fashionista than something that's scary and beautiful, fierce and stunning, all at once? 
With all this in mind, Hong Kong clearly was not Tam's only influence. Flapperism of the 1920's was certainly at the forefront of her mind. Sparkly fringe hung from dress after dress, so it wasn't hard to imagine these dolls walking straight from the runway to a speakeasy in Tin Pan Alley, where they hoof the night away with their hard-boiled boyfriends, then jet off in a breezer. What I'm trying to say is that Tam's newest collection is really the cat's meow.