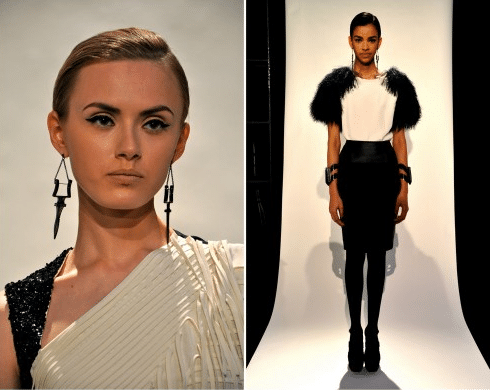 If imitation is the highest form of flattery, then Twiggy may have noticed her ass covered in nude lipstick prints after the Sachin + Babi Fall/Winter 2011 Fashion Show at the Box in Lincoln Center. And that's a good thing- 60s style is a steady well of inspiration for the fashion set. 
And it's not as though Sachin + Babi were lacking in creativity. First of all, the show was installation style, much to the relief of several perturbed VIPs who'd been wondering how it was possible that they'd all been relegated to "fucking Siberia land standing room." The photographers took full advantage of having stationary models by camping out in front of their favorite look and snapping away.  
The models had dramatic cat-eye liner with a nude lip, hence the Twiggy reference. One model, in a black satin above the knee shift, in particular evoked that original gamine girl wonder, Twiggy, with every pout and wide-eyed glance. 
She wasn't the only girl in black- it featured heavily throughout the collection, but there were glimpses of this season's go-to jewel tones like magenta and navy, paired beautifully in this show with black leather. 
Other relevant trends included wide leg silk trousers, dramatic knits in unusual shapes and fur accents. Nothing was overdone, though. Sachi + Babi's take on these trends was, without exception, unique and modern feeling. 
The silhouettes, though, were classic 1960s: above the knee dresses in satin and fur, long, shapeless shifts with alluring low keyhole slits, silk blouses and black velvet platform sandals. 
These classic, mod lines contrasted with the futuristic, sharp jewelry, which kept the collection feeling fresh. Also refreshing was the music: for once there was nary a remix nor a house beat to be found. Sachi + Babi went with pure, unfiltered classic rock in the form of the Rolling Stones and Led Zeppelin.  
Mick Jagger would have happily snapped up any of the lovely ladies at the Sachi + Babi show, which was apparently partially inspired by one of the designer's new motorcycle. How rock and roll.