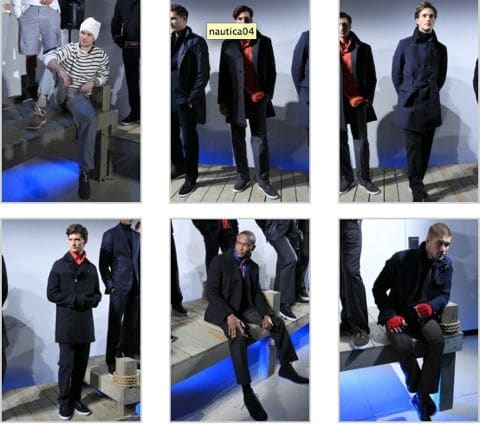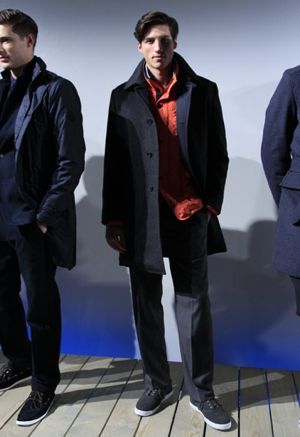 Nautica sent a sea breeze wafting through The Lincoln Center with their Fall 2011 Men's collection. They moved a pier into the Library of Performing Arts, across the courtyard and around the corner from the Mercedes-Benz Fashion Week building. A collection of cute male models hung lazily about on the pier, letting admirers stall in the crowd to admire them. Also, incidentally, to admire the clothes, which were the sort of timeless American Maritime inspired pieces every man could have in his closet.
The styling and design moved us from early Fall to the verge of Winter. At one end of the pier the boys were all in white let's go sailing outfits, including cargo shirts and high collared sweaters (that look seems to be everywhere lately). As the clothes got thicker and bigger, the colors went to the opposite side of the spectrum with dark blues and blacks. Nautica stuck to a mostly neutral palette, but there was a welcome splash of attention seeking orange, a color they were really pushing with turtle neck and button down. By itself it was the sort of orange you'd have to be pretty daring to wear, but tempered by a dark pea coat worn over, it was an eye-catching looking.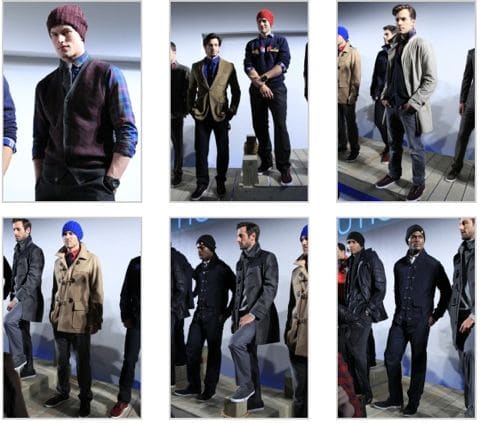 While the looks were mostly casual (with every boy in sensible shoes), there were fancier looking pieces, sweater vests and checkered suit coats. The lumberjack shirt is sticking around for another season but Nautica seems to be trying to class it up a bit by pairing it with dressier outfits and ties. The fit of every piece was relatively tight, which was welcome since I've always associated Nautica with being one of those "your small is a medium" companies. The trim fit made everything feel a little more modern.
While there was nothing ground breaking, it was a solid commercial collection that I expect we'll be seeing a lot of guys walking around in next Fall. I have yet to meet anyone who can really pull off that high collared sweater, though.